I know I took meticulous photos of each step in the making of this Transparent Deco-Round necklace.  But seek as I might, the photos have …poof! … gone!
So all I can offer is lots of detailed photos with some explanatory construction notes.  So here we go …
I have used a clear glass cabochon as the focal.  The transparency of the central cabochon gives the piece a unique and intriguing look.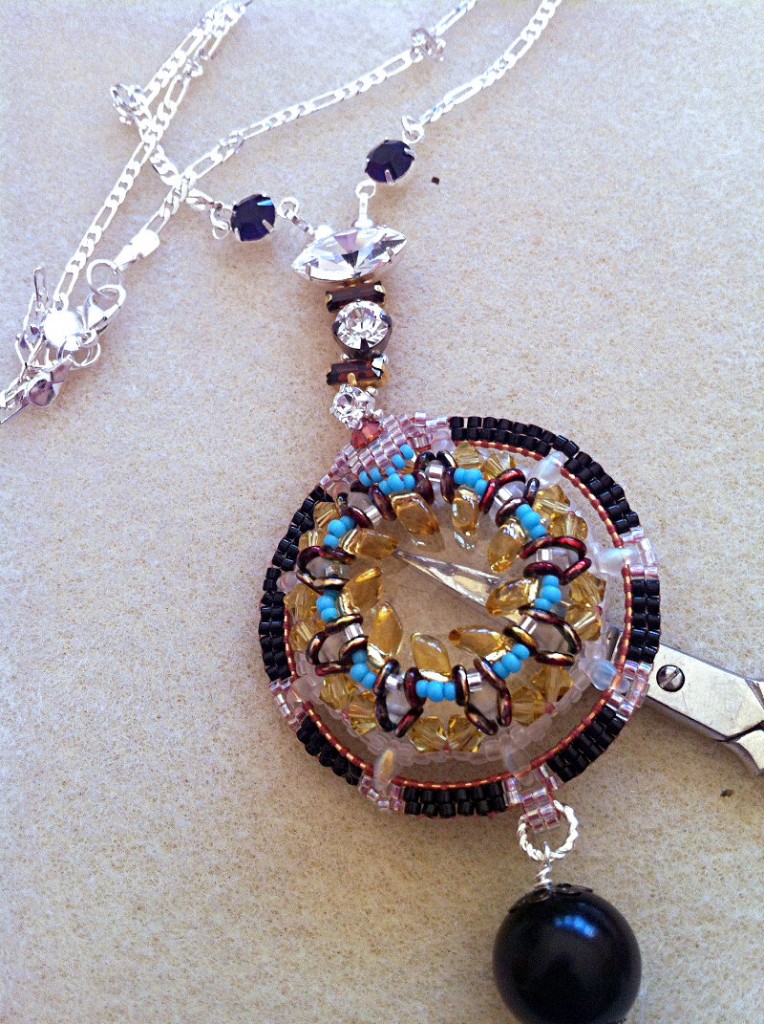 First the cabochon is bead-bezeled with O Ring beads, seed beads, magamatas, and 4mm crystal bicones, and Super Duo beads.
2-holed Super Duos are also used at the edging of the bead bezel.
Curve a copper wire (0.7mm) to the approximate size and thread through the outer empty holes of the Super Duos.  Then mainly ladder stitch (2 rows) are beaded on this wire.
The back of the cab is beaded tightly to fully secure the cabochon.
The top section is made of Swarovski Elements – graduated Chaton Montees (Purple Velvet & Crystal), Marquise Setting (crystal), Baguette settings (Topaz).  These are wired with fine tigertail for strong security.
The dangle bead is attached with headpins from Swarovski.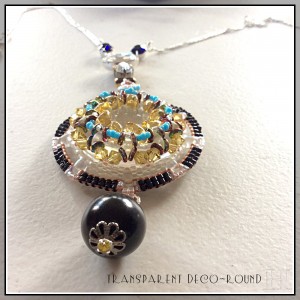 ---
Final Close ups of Transparent Deco-Round necklace
---
Materials Used in Transparent Deco-Round necklace
Swarovski: chaton montees, marquise crystal setting, baguette stone setting, headpin
sterling silver chain
Czech and Miyuki seed beads including magamatas, Super Duos, O Rings, delica, bicone crystals