Royal India earrings with the touch of magical India and her vibrant seductive colours. This pair of earring brings touches of the eastern exotic to the modern, enduring sparkles of Swarovski, swirled and backed by delicately robust filigree work.
I walk into the arms of Beauty
followed by fluttering butterflies
and the colours that glow with history and future.
---
How to Make the Royal India earrings
There are so many beaded bezel instructions available on the net already that I will jump right in and bypass those instructions.
Here I have beaded bezel two purple round resin cabochons.  And affixed them to a filigree backing. This will be for the lower parts of the earrings.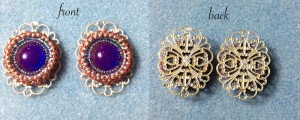 For the top beaded bezel component, I have used the technique on how to convert a round rivoli stone into a square. Here I have used a 12mm Swarovski rivoli and will be doing the edgings with 4mm and 2.5mm Swarovski bicone crystals.
The photos above are just snap shots of the process.  You will probably need to know the basics of bead bezelling a round stone to fully follow along.  How to Bead Bezel Square Rivoli has the full details of creating a square bezel for a round stone.
Testing Layout
Once you have completed the components, it is just a matter of testing layouts to see what suits you best.  And then joining them together.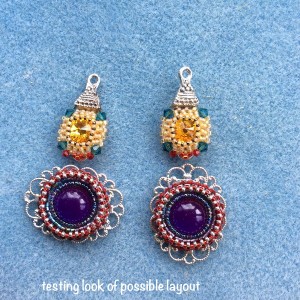 ---
Materials in Royal India earrings
resin cabochons
metal filigree
Czech & Japanese seed beads
Swarovski crystal beads
metal jewelry findings from India
Status: SOLD 0FL (ChristineLim CharityAuction Aug2016)
---