This bangle obviously features handmade felted cabs. It's focal is a Peruzian cab from Peruzi; made by the deliciously talented Natalie-Fletcher Jones.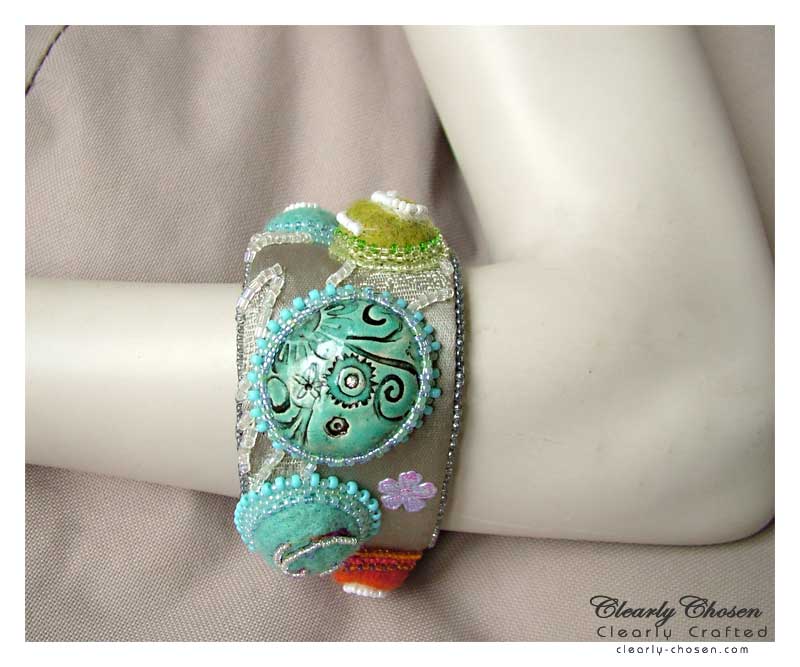 The bangle also celebrates the recycling of materials; otherwise destined for the dump despite them being new and unused.
This was made some while ago. The felted cab bangle, an experiment (as most of my endeavours are) turned out joyful and pleasing.
The focal Peruzian cab is surrounded by my beaded & felted cabs – created especially to complement the Peruzian cabochon.
I am including lots of photos. Once in a while, the photos turn out as desired. Then it is hard to cull any!
All the cabs are bead-worked over a rubber-backed curtain material. The curtain material had some relief leaf design which goes with the theme of the piece. After the full cab and other embellishments, the piece is secured to a recycled stubby holder – which naturally forms a perfect cuff or bangle.
Materials and Specifications
Approximated bangle diameter: 20-21cm (8 to 8.5inch)
Bangle width: 45mm (1.7inches)
Seed Beads (Miyuki, Czech, Toho)
handmade felted cabs
Peruzian clay cabochon
recycled materials
---
Felted Cabs Bangle: some how-to notes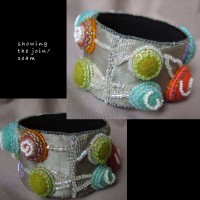 The curtain or foundation materials joins together in a seam; over the seam on the stubby holder. Make use of this seam. Here I beaded a line over it to add to rather than distract from the design.
---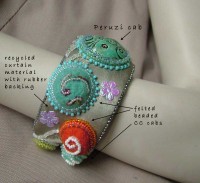 This next detailed photo shows more specifics.  I am always delighted to recycle materials. Hence here, I am not only happy with the results but happy too with the recycling.
---
(CC078  – Created some time between 2010 & 2011).
This and more electic one-off jewelry can be found in our store.