Blue Montee Baby Shoes has a super sparkly Swarovski montee to symbolise the brilliance of having your new baby.
Size
Foot-length: 9-9.5cm (Suitable for baby 0-6months)
soft yarn (70% bamboo; 30% cotton)
Swarovski Crystal Montee #53103 (6mm)
4/0 Clover crochet hook (2.5mm)
100x 4mm beads; 10x 6mm beads
---
How to Make your Own Crochet Blue Montee Baby Shoes
Shoe Soles – Please refer to Baby Shoe Soles Crochet Chart. Using that chart, we know that we will end up with 50 stitches all round.  This is info we will need later for determining how many beads to thread.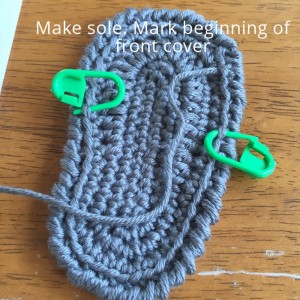 How To
For this how-to crochet Blue Montee Baby Shoes, please refer to the photos below.
Note: Our first row is done is white.  Thread 50 4mm beads before commencing with the crochet.
After that, all you need to do is neaten, finish off and add buttons of your choice and size.
---