Beaded Owl necklace, the Karlyn Owl, came about thanks to my sister, Christina Gillett.  While on holidays, she snuck an owl of an idea into my head: she asked me for some owl jewellery.
The inspiration for Karlyn beaded owl necklace came from "Sovushka Owl".  Naturally I gave in to my natural inclination and modified it.
FYI
: The Sovushka Owl is to be found on a Russian site but it has enough photos to give you some good idea as to the how-to steps required. You might want to refer to that site, especially for the beaded owl's "eyebrows".  I only have a brief description for that part.
---
How to Make the Karlyn Beaded Owl
Beaded Owl's Eyes & Eyebrows
Bead bezel two rivoli for the eyes and connect them.  (You can refer to Beaded Owl Earrings I to get more how-to details on beading a bezel for the rivoli.) I used some drop beads to create some "eyelashes" (optional).
For the "eyebrows", create two peyote triangles.  Then join them together.  Attach to eyes.  And that is your head done.
FYI: Refer to "
Sovushka Owl
" for making the triangles for the eyebrows.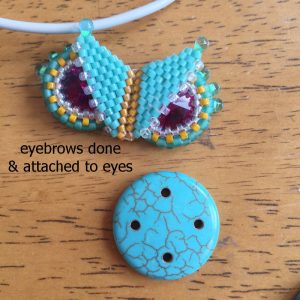 ---
Beaded Owl's Body
Roughly draw outline of owl onto stiff beading foundation.
I used a large turquoise button as a cabochon.  Glue the button cabochon onto a stiff beading foundation. Bead bezel around it directly onto the stiff beading foundation.
The following photos shows the main steps.
Once you are happy with the completeness of your bead embroidery, trim all around – leaving about 2mm spacing.
To stiffen body, I cut a thick cardboard that was smaller than the design.  Glue that to the back.
For the backing, I used grey ultrasuede.  Cut to shape. Then bead around the edging, catching both the beading foundation and the ultrasuede.
I finished the necklace with .925 sterling silver chain, linked to various gemstones and beads. Also two glittering Swarovski butterfly beads just before the solid Sterling Silver toggle clasp.
---
The Finished Beaded Owl Necklace
Materials:
Swarovski Rivoli crystal, 14mm, Fuchsia
Swarovski Bicone Crystals, 3mm (Smoky Topaz, Turquoise AB, Fuchsia, Cyclamen Opal)
Swarovski Crystal Pearls, 3mm (Jade)
Drop Beads, 3.4mm, (Transparent Crystal)
O Beads
Czech Dagger Beads
Duo Beads, (Crystal Superit, Dark Celsian)
Howlite
Delica (Opaque Turquoise AB)
Matsumo, 11/0 (Frosted Turquoise)
Toho, 11/0 (Galvanised Silver, Frosted Teal)
Miyuki, 15/0 (Sterling Plated)
Ultrasuede, Gray
Gemstones (Coral 3mm round, Orange Imperial Jasper, Imitation Turquoise, Mother of Pearl (MOP) carved leaf beads)
.925 Sterling Silver wire
.925 Sterling Silver toggle clasp
Status: Sold TJL g25; to Christina Gillett; Feb 2017
---
In my next postings, I will be following this with some complementary beaded owl earrings. (Beaded Owl Earrings I, Beaded Owl Earrings II)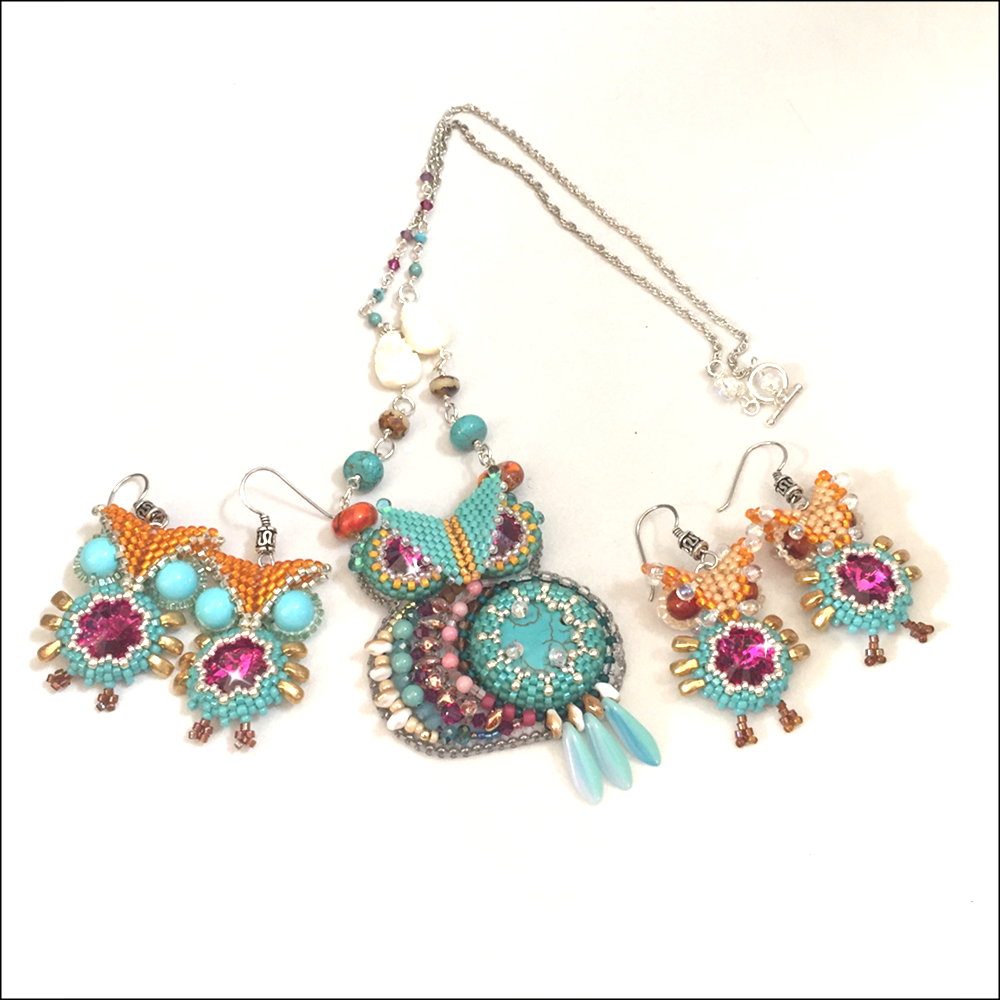 I hope that the photos here are enough to give you sufficient idea as to how to make your own beaded owl pendant.  You will need to know how to do beaded bezel rivoli to make this beaded owl necklace.
---