Following on from learning how to bead bezel square rivoli (creating a square shape using round rivoli), I decided to play around with the idea in some art deco style.  These "Art Deco Squares" necklaces are a result of that play.
How to make Art Deco Squares – beading
Because I have already detailed most of the how to in Bead Bezel Square Rivoli, I won't need to go into in-depth details about how to bead around a round stone to create a square bezel frame.  Here I will just be showing some summary wip photos.
As usual, we start with some rough sketch to use as guide.  I also find it very useful to have a sample of the main work technique (beaded square rivoli) in front of me as I play around and vary things.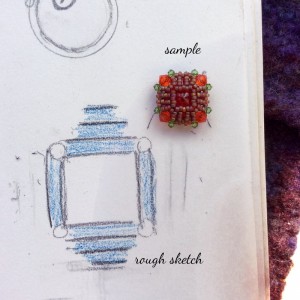 Then decide on some main components to use.  Here to start, I have chosen a Swarovski round rivoli, 14mm in Crystal Silver Patina.  For the corners (of the square bezel frame), I am thinking of using some Swarovski chaton montees (instead of 4mm bicones).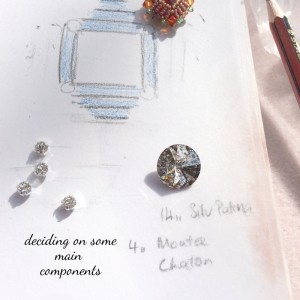 Below are some WIP (work in progress) photos that will act as quick reminders of how to bead bezel rivoli squares. It also shows how the chaton montee looks in the corners when one uses them.
I made one Art Deco Square necklace in Blue & Silver and one in Blue & Gold. The drops at the ends are Czech and Japanese drop beads.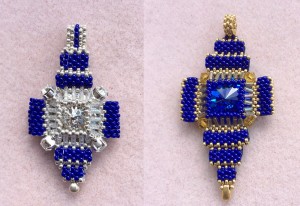 ---
Finished Art Deco Squares necklaces
Art Deco Square necklace in Silver & Blue
Art Deco Square necklace in Gold & Blue
Just for reference, here is a pic of the back.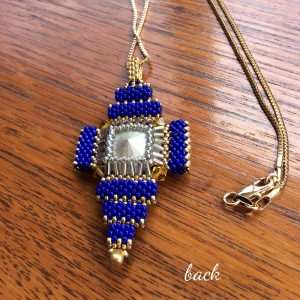 Materials for Art Deco Square necklaces:
Swarovski crystal rivolis & crystal beads
Swarovski chaton montees
Japanese and Czech seedbeads
sterling silver chain (16inch); Blue & Silver pendant: 5x3mm
gold vermeil chain (19inch); Blue & Gold pendant: 6.5×3.5mm