I decided to play around with some wire weaving. With some very fine wire (0.25mm or 30gauge).  I thought I would go blind there for a while.  But still here.  And this art nouveauish wire woven necklace has been christened "Aquamarine Romance".
It is made of 2 separate pieces of wire weaving.  21-22ga brass wire is used as core for strength and contrast.  Square Sterling Silver filled wire, twisted, have been used to accentuate the curves.  Swarovski chaton in Air Blue Opal crystal used to join the 2 separate parts together, giving it mobility.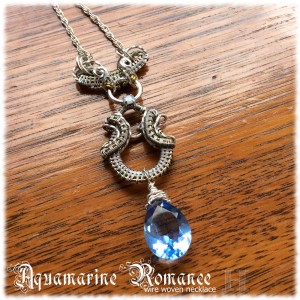 Aquarmarine quartz in pointed back teardrop (faceted) shape finishes off the delicate, vintage and genteel ensemble. This is strung off a sterling silver rope chain.
Suits low decolletage or glamour against solid background.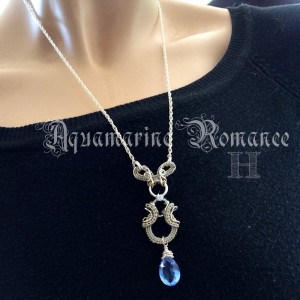 Chain length: 49cm/ 19.3inch (round neck, excluding drop)
Materials Used:
sterling silver chain
aquamarine quartz
Swarovski chaton montee (air blue opal)
brass and silver wires