Urban Rock pendant in Violet Blue Frost is rocking Jewellery with Attitude!
Urban Jewelry is jewellery for the person who has Street Smarts, lots of Attitude, and often with a delectable Feminine Twist. Urban Jewellery has been conceived for the contemporary individual who appreciates jewelry with a Distinctive Edge and demands more Flexibility, more Attitude, more Options, and more alluring Individuality.
I have designed this range of jewelry for just such a person.
Addendum: A most apt description from one of my beloved friends, Beverley Jane: "presents that overflow with gemmies and flowers". I just had to add this in as this is such a perfect description.
The "Urban Rocks" are jewellery that really rocks! It is an endlessly changing Rock for the Street-wise Urbanite who craves movement, change, structure, and funky distinction.
This "Violet Blue Frost" pendant is edgy with its 3D triangular cage shape, capturing moving treasures that add depth, movement, and intrigue. It is the creative use of its open mesh structure that allows this pendant to be worn in an endless variety of ways – changing with your mood and attitude. Different looks is achieved by threading through any of the open square "holes". And as the pendant is finished differently back and front, your options of wearing it in multiple intriguing ways is instantly doubled.
Below here is shown but a small sampling of this endless flexibility. Displayed here with a silver metal choker, it can also be worn with chains, leather thongs, ribbons, cords, hemp, etc.
Note: this was designed under my previous label "ClearlyChosen" – which has now been retired.
Below are the many faces of the Violet Blue Frost Urban Rock pendant …. Bling provided by Swarovski in the bicones of Jonquil, White Alabaster, and Jet AB. Red Czech bugles, large clear crystals with AB finish within cage.
I have taken lots of photos of this Red Power Urban Rock pendant.  Because it is so photogenic!!
The "visual sizing" photo is just a rough guide to size and may not depict the actual pendant in this listing.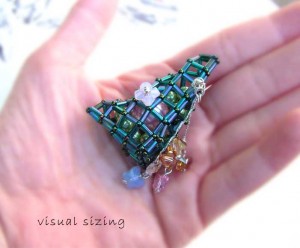 Swarovski's Alexandrite is one of my all time favourite crystal. It changes color under different lighting – from Violet Lavendar tones under sunlight and incandescent lighting to Blue Sapphire tones under Fluorescent lighting. The open mesh RAW "cage" is from Matsuno bugles (size 3) in frosted variegated hues.
Materials
Japanese Matsumo bugle beads
Japanese Toho seed beads
Swarovski Crystals (Alexandrite)
large crystals (within cage)
Construction Notes
Base Beading Weave: RAW (right angle weave): working from center with 2 needles.
Fold and sew together to create 3D effect. Beads/gems can be put into the "cage" before sewing up is completed.
Piece in RAW is worked with bugles. The seed beads are added later (before sewing up) that will add structure, form, and strength. Crystal petite flowers follow. No bail is needed.
Standard beading thread has been used. (ILoveU #2 nylon).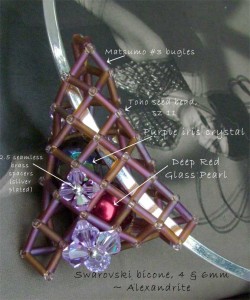 I hope you enjoyed the many photos. Please feel free to let me know what you think in the comments below. Or sign up for our free newsletter (updated only as ideas or creations dictate!)
---
---
tgillet 1601
---
---