Double Crochet Thermal Stitch or Half Double Crochet Thermal Stitch are exactly the same as (single crochet) Thermal Stitch, except worked with dc or hdc respectively.
I have a fully detailed written and pictorial guide on how to do the default (single crochet) Thermal Stitch.
I originally called it the Strap Stitch because I "invented" it while trying to make a sturdy strap. I suspected but didn't know then that such a stitch already existed. Now it is just too much work to try and change all my earlier references.
Here, I am sharing a video tutorial (by someone else) towards the end of the page.
---
dc vs hdc Thermal Stitch
In the video, he only talks about the dc thermal stitch.  But the hdc can also be used in the Thermal Stitch method.    In fact, I prefer the hdc Thermal St.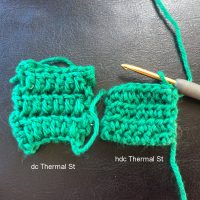 dc vs hdc thermal stitch
The hdc Thermal St is:
of course, shorter
feels firmer and sturdier
---
Tip:  How to Get Straight Edges
As I detailed in the Strap Stitch/Thermal Stitch (sc) tutorial, the trick to getting straight edges is:
skip first stitch, add one st at the end
---
I would recommend you read through the basic (sc) Thermal Stitch tutorial first.  That should give you a much clearer idea of what is going on when you watch the video below on how to crochet the dc Thermal Stitch.
---
How to Crochet the Double Crochet Thermal Stitch
(by New Stitch a Day: Knitting and Crochet Video Tutorials)