Summery Joys and Childhood Bliss! This bag is a bit of a child-like celebration of summer joys, going on train rides, having big smiles on the face, watching trains roll by and butterflies flutter.
I fell in love with felting almost as soon as we were introduced.
Summer Joy" makes me think of childhood, summertime, and train rides.
This is the other side of the bag. See what I mean about train rides? And childhood?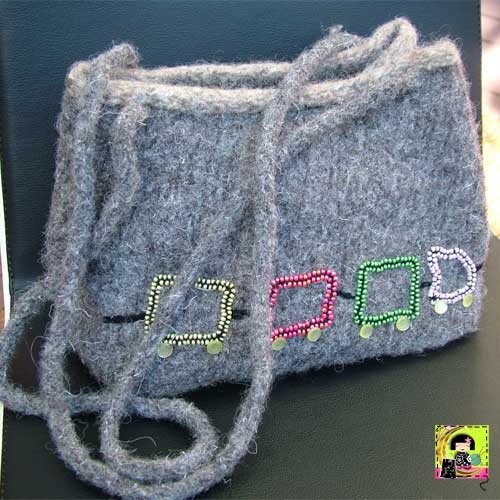 The one continuous strap goes through the four holes in the bag and when drawn, acts as a closer for the bag as well.
This bag has been designed with a summery feel and is reminiscent of a train ride through the countryside, seeing the trees go by and the happy fluttering of butterflies; through the eyes of a bright-eyed child in the first throes of holidays.
This bag is not only cheerful and funky, it is also roomy and comfortable. Suitable for young and young-at-heart. Below, I have placed the bag on a standard chair to provide visual sizing.
And just for the summer joy of it, I wanted to remember how it looked like in dappled sunshine …
Approximate DIMENSIONS
Base: 14×26 cm / 5.5 x 10.2 inches
Height: 20cm / 7.9 inches
Strap length (from top of bag to top of strap): 40 cm / 15.7 inches
Weight: 160 grams / 5.6 ounces
Very comfortable and roomy!
Constructions Notes of Summer Joy Bag
Note
:
This method of wool-work is more properly called "fulling" rather than "felting". However the latter term is how it is more commonly referred to and by which, except for purists, it is popularly known by.
The bag was first knitted up *to size in light, gentle, happy gray – which I imagined would be a suitable background for the images to come. It was then felted, shaped, and allowed to dry for a day or more. (Drying time will depend on the weather and humidity.)
The size knitted was considerably larger than the finished size. Felting will shrink the piece, more length-wise than width-wise. And it will depend on the yarn and the tension of the knitted piece. Here I used 100% pure wool.
The bag has a long strap for ease of use. It can easily be knotted for shorter lengths. The strap goes through the 4 inbuilt holes and provides easy mechanism for opening/closing.
The Summer Joy Bag has a reinforced base.
The bag was beaded on both sides, each with different but complementary images. Beading was done in bright, cheery colors. The bottom has been reinforced to help keep its shape and for strength.
Here below are more of the beaded "flowers". They are actually hand-crochet braiding (no hooks used) with beads worked in as the braid was made so that the beads appear on both edges of the braiding. The braiding is then securely sewn onto the bag to form the requisite shapes.
The train "blocks" are, like the flowers above, hand-crochet braiding with beads. The wheels are buttons.
The butterflies are fabric puffy cut-outs. They are (fabric) glued on.
This is one of the handmade crafts I truly enjoyed doing from start to finish. I really must make more time to jump back into the summer joy of things!
---
Note: This item has gone and is no longer available from our store.
Please take a moment to leave me a comment or a tip. Also feel free to sign up for our free (spasmodic!) newsletter.