I think there are a few ways to create Rib Crochet.  This method is quite easy.
Notes
direction of work
rib crochet consists of alternating rows of:
sc row and
sl st row
Fabric Characteristics
quite dense, no big holes
mildly stretchy
not stiff
---
Video Tutorial: Faux Rib Crochet
Tutorial by Hopeful Honey on YouTube.
---
Other Faux Rib Crochet
3 differnt faux rib with varying elasticity using slip st, single crochet, hdc respectively.
---
fpdc & Chain Faux Rib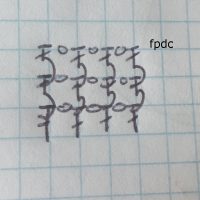 This faux rib consists mainly of fpdc (front post double crochet) and a chain inbetween them.
I used this in my Meditation Capelet.
fpdc & chain crochet rib produces a fabic that:
has a ribbed appearance on both sides; both elastic
is not dense but quite airy so it is good when you want a rib section that is quite soft
---