A little guide on how to make a firm peyote toggle clasp set.
Circle part of Peyote Toggle Clasp
This produces a firm toggle.
Start with a closed ring. Here I started with a closed ring, 10mm inner diameter.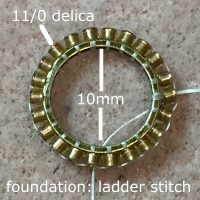 Foundation: Delicas
Tie thread and do a foundation row of ladder stitch with 11/0 delicas.
NOTE: This ladder stitch foundation row is a good place to include a small closed jump ring (to enable linking circle toggle to main piece of creative work). Include jump ring in-between 2 beads. Below are shown Sample 2 (in different colours from main demonstration sample) where I have included a closed jump ring.
---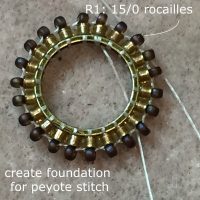 Row 1: create base row for peyote stitches with 15/0 seed beads
(Under bridging thread, thread bead, next bridging thread, etc.)
---
Row 2 & 3: Peyote in 15/0 then 11/0 Delica
---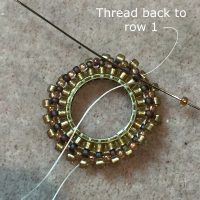 Repeat Row 2 & 3 – on the "other side"
Thread back to row 1 with 15/0 seed beads (base row for peyote stitch).
---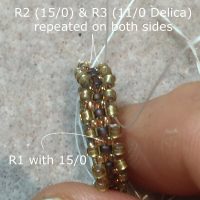 Then repeat Row 2 (15/0) and Row 3 (11/0 Delica) on the "other side"
---
Row 4: Last Row. 11/0 Rocaille. Zip up
Note that this sample does not have the linking jump ring mentioned above. But I would recommend including the closed jump ring. Makes linking up to the main work much easier.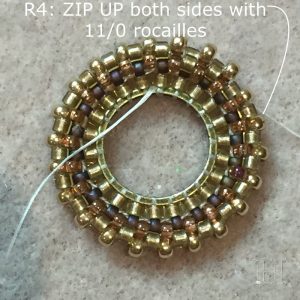 ---
Peyote Toggle Bar
I am now using different coloured beads to demonstrate how to make a peyote toggle bar. But the underlying technique is valid.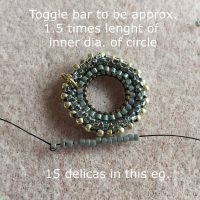 Row 1: 11/0 Delicas. Odd number of stitches.  1.5 times length of inner dia.
The length of the toggle bar should be approximately 1.5 times the length of the inner diameter of the circle toggle.
So thread delicas to give you approximately that length. Make sure that you have ODD number of stitches. The odd number ensures that when we place the linking closed jump ring, we can have that in the exact center of the toggle bar.
Here I am working with 15 beads.
Carry on working in Peyote stitch, using the delica beads. Create as many rows as needed. (Here I worked 8 rows.) This will be "rolled" and zipped up to form a firm toggle bar.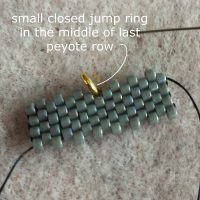 HOWEVER, on the very last row, insert a small closed ring in the middle of the row in lieu of a delica.  The peyote to the end. When you zip up, that jump ring will be beaded just like a normal bead.
---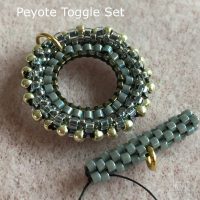 Then zip up to complete.
You can stop here if you like.  The peyote toggle clasp set is completely functional.
---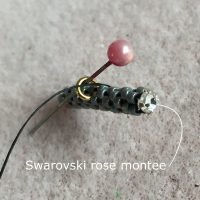 Optional: Decorate Ends of Toggle Bar
But I have decided to (optionally) decorate the ends of the toggle bar.
I have embellished the ends with Swarovski montee crystals.
And further decorated around the montee with vintage, 16/0 bronze facet-cut seed beads.
---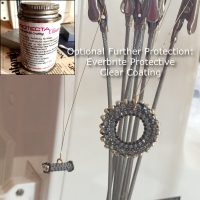 Optional: Clear Protection
I have dipped the peyote toggle set in Everbrite Clear Protection.  Hung them up to dry.  They provides extra protection for the thread, the metal jumprings, the beads.  And does not impair the shine nor the crystal's brightness.
---
The Finished Peyote Toggle Clasp
---
Credit & Acknowledgements
I didn't have the toggle clasp I wanted.  That made me look into making one for myself.  And I turned to YouTube.
I ended up with my own version (above) which is similar to but different from the one below.  Nonetheless, the video was a source of inspiration for me.
Beaded Peyote Toggle (by offthebeadedpath) – I especially like the decorated frilled ends to her toggle bar.  However I found that the circle part of the beaded toggle was not quite firm enough for me.  And I prefer solid, soldered, metal jump rings to beaded loops as connector links.