Today I will do a short blog post on how to make open toe baby sandals.  Keep in mind that the look and feel of them varies greatly with the colour and embellishment choices.  So here, I will just cover the basic foundation of the open toe baby sandals.
How to Make Open Toe Baby Sandals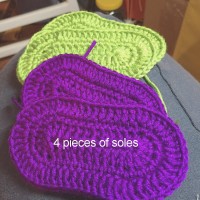 First make 4 soles. 2 upper and 2 lower soles. The open toe baby sandals have double soles.
For the soles, please refer to DC Baby Soles for the crochet chart. Note however that here, for the second row, instead of dc (double crochet), I have used sc (single crochet) to get the size I want.
---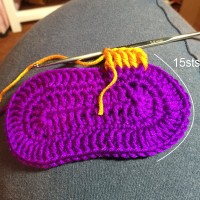 If the upper and lower soles have different colours (as here), we will first work with the upper soles. In this instance, it is the purple soles.
We work from the back.  Start and make 5dc, picking up around the post of the dc stitches from the soles (i.e. 5fpdc).  Leave 15 stitches around the center curve.
---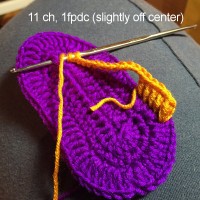 11 chains, then 1fpdc (front post double crochet). Make sure it is slightly off center to accomodate where the toe is going to be. Note: when you make the other sole, this will have to be reversed. Viz. if this side is slightly off center towards the left, then the other sole will be slightly off center towards the right.
---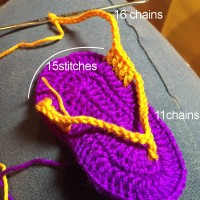 11 chains for the other strap. 5fpdc (leaving 15 stitches around center back). 16 chains (strap for back of foot).
---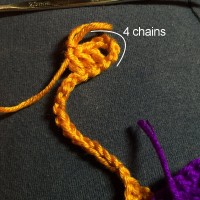 Then 4 more additional chains (for button hole). Then dc all along till you get to the penultimate dc just before the center post (for toe).
---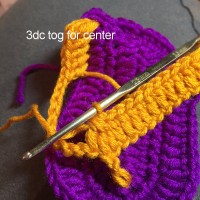 3dc together for the center.
---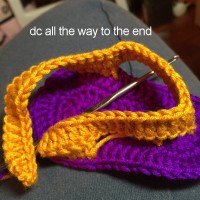 dc all the way to the end.
---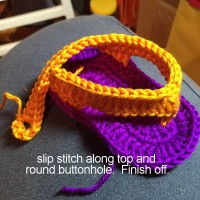 Neaten and strengthen by using slip stitch along top and around the buttonhole. Cut yarn and finish off.
Then add your own buttons and embellishments.
Note:
When you make the other sole, remember that you need to mirror this side as baby has a left and right foot!!!!
---
Once you have done the upper soles, join the upper to the lower soles by slip stitching all around.
---
Summary Photos: How To Crochet Baby Sandals
Once you no longer to follow all the details, the following summary gallery of photos will serve as quick reminder. You can just move from photo to photo.
---
Credit: The credit for this open toe baby sandals tutorial goes to https://www.pinterest.com/pin/79516749649373721/ – a Pinterest pictorial tutorial. I have modified that tutorial and added more details.
I hope you found this helpful if you are thinking of making your own open toe baby sandals. Feel free to leave me a comment and/or feedback or just sign up for the free email newsletter to be notified of all new posts. Happy Crafting!
---
---
---