Mosaic Crochet vs Mosaic Knitting:  I have already talked about Mosaic Knitting Basics and then, What is Mosaic Crochet? (or what it isn't).  So before I move on to talk about how to mosaic crochet, let's have a quick look at the differences between Mosaic Knitting and Mosaic Crochet.
This is the Barbara Walker Mosaic Knitting Chart I worked off.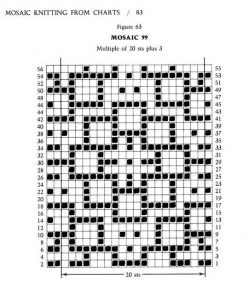 And here are the results, with Mosaic Knitting on the left, and Mosaic Crochet on the right.  The same yarn has been used, with the needle and crochet hook size that was most appropriate for the yarn.
You can immediately see that, given the same yarn and Mosaic Chart pattern, the Mosaic Crochet produces a substantially larger piece than with Mosaic Knitting.
---
Summary of Differences: Mosaic Knitting vs Mosaic Crochet
Mosaic Knitting
Smaller size
softer, more drapeable
suitable for sweaters, jumpers, afghans
less defined pattern
easier to work off chart
WS (wrong side) looks like, well .. the wrong side!
Mosaic Crochet
Larger size
stiffer, stronger
suitable for jackets, coats, bags
more defined pattern
needs more concentration to work off charts
WS looks enough neat enough to give you a reversible fabric
---

So there you go. A quick overview of the differences between Mosaic Knitting vs Mosaic Crochet. Hope you found that useful.
Do feel free to add your thoughts or comments in the comments box below. Remember you can also sign up to our free email updates.
---