I may have mentioned in Beaded Picture Crochet – What is it?, I am getting back into the joys of crocheting images with beads.  This Michou Inspired Cuff Bracelet is (I think) the first off the block.
For this posting, I am not going into the how-to of making a beaded picture crochet cuff bracelet.  (Actually, the creation and the blogging is so far apart in time, my brain already has cobwebs.) So here are some big pictures instead.
Details & Sizing
Tip: very cute peeking out from under long sleeves.

Warning: this is a very tactile piece.  Be prepared. People will want to touch you.
The Michou Inspired Cuff Bracelet is meant to be a snug fit.
Size: Small
Length/Circumference: 15cm (about 6 inches)
Width/Depth: 9cm (about 3.5 inches)
Closure: double magnetic buttons
Materials
viscose rayon yarn; cotton yarn
cut crystals (4mm hyacinth)
Czech & Japanese seed beads (Miyuki, Toho) – 8/0 & 11/0 plus some delicas and hex beads
Miyuki drop beads
antique bronze magnetic buttons
STATUS: g45 NRL et ch
---
Michou Inspired Cuff Bracelet – A Peek at the Process
I am a big fan of Michou Design.
So I turned to Michou Pascale Anderson Design on Facebook for my needed originating spark. Her use of colours always turns me on. I do hope that Michou Pascale does not mind me using her work as my starting point. But as you will shortly see … my final result is not really that close to the originating spark. However I normally do need a spark up the bum for me to get going. Anyways I am going to thank Michou Pascale Anderson in advance for the inspiration her work always gives me. And the uplifting of spirits.
This is the Michou design that got me started.  (It is a screen grab from her Facebook photo album.) Aren't her colours great?
Next I had to do a bit of graphic manipulation.  I used Gimp and ImageTricks (working on a MacBook Pro).
The first photo below shows that I have coupled a few cropped images together and gave it a swirl.  And decreased the number of colours into more distinct blocks.  As you can see, I am already beginning to deviate greatly from the original.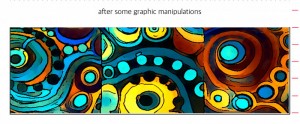 In the next photo, the image has been graphed.  (At this stage, I already have some clear idea as to the swatching sizes: how many beaded stitches over how many rows do I need?  The altered graphic then has to be resized into that number of rows and stitches on my digital graph paper.)  This is a manual and tedious process.  But necessary.  Each "oval" has to be bucket-filled in with the correct colour.  It is also at this stage that I will be matching my available (bead) colours to the design.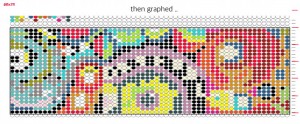 It is from this graphed version that I string the required beads and work off this graph when I crochet it up.
And then .. ta-da … the finished crocheted cuff bracelet.
Now that was fun.  Wasn't it? 😀
---
---
---
---