Meditation Capelet for early morning meditations! Mornings are getting colder.  It is harder and harder to rise above the doona and sit up for nippy morning meditations.  This capelet was designed to keep me warm at those moments.
In the cold mornings, I notice that the cold parts of my anatomy are neck, shoulders, upper back, top of arms.  It is impractical to try and pull the heavy doona up to drape around one's shoulder.  The doona is already needed elsewhere –  to keep my legs and feet warm!
So I decided to make a capelet that would cover up just those cold body parts.
Work Notes
There is no pattern for this crochet capelet.  I made it up ad hoc style. So these below are just based on my memory as to what I did.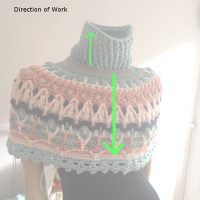 I used Aran wt yarn and a 5mm hook.
I started at the neck opening, with 80 sts (though I think, 60 would do next time).
Then I increased the work like you do for a flat circle.  Then no more increases so that it would drape over the shoulders and not flare out.
I based the overlay crochet stitches on Lilla Bjorn's "Spanish Mandala Pillow" paid pattern.
You can find her Spanish Mandala pattern at her Ravelry store.
When you have the length/height you want, crochet a bottom edging.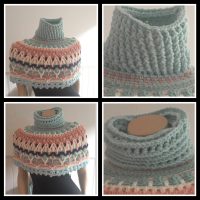 Then make the turtle neck – which is my faux rib crochet.  I wanted a rib look but also fairly soft; not dense and rigid.
Go to fpdc & chain faux rib for more details.
---