Lilly Owl is part of "Lilly By The Sea (clay play)".  Here we will go into detail about how to make this felted, mix media owl.
Close Ups of Lilly Owl
To make sure you will be interested in Lilly Owl, here are some close ups.
---
How to Make Lilly Owl
Start by scribbling rough idea on paper.  Does not matter if final outcome turns out different. I have found that this doodle on paper part, while a bit boring, is very helpful along the long and twisted process in the days to come.
Start
A bit of roving wool.
I am needle-felting the blob onto a piece of yellow (slightly flannel-like material).
Needle felt into the shape or blob you want.
Felt well. Do pinch test (viz pinch piece with fingers to ensure you cannot pinch fluff off).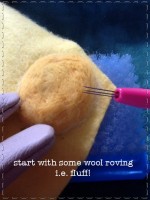 ---
Eyes, Part I
Experimenting with various eye options.
From Swarovski rivoli buttons, standard buttons, and anything else that might be suitable.Here I also had to hammer the metal filligree into shape so that the rivoli buttons will sit well. The filligree caps themselves has to fit snugly into the button indentation.
---
Wings
Use some tracing paper to draw out a wing. It won't be 100% accurate but as accurate as possible. The wing will have to fit onto the rounded body. However the fabric I will be using has some stretch which will be helpful.
Cut out the tracing paper and use as template.
Outline on chosen fabric.
Fold material over (wrong side to wrong side).
Pin together (especially if fabric is slippery), then cut.
No need to leave seam.
Make a little wing as well. (Refer to draft drawing as guide.)
Using your paper template, cut some felt to shape. This will be used as interfacing.
Spongy interfacing will give the wing depth and body.
Tack top wing fabric to interfacing (so there is no sliding). Do NOT attach bottom layer of wing yet.
Embellish at will.
When happy with embellishment, attach bottom fabric-layer of wing. Blanket or whip stitch all round.
Do same for small wing.
Wings done.
---
Body
Trim around the felted body.
Leave about 2mm edging all round.
This will be for the beaded edging later.
Choose another material that will be the final backing for Lilly Owl. (I am using the orange felt here.)
Trace around body and cut the backing to shape.
Leave backing for now. We will only be using this towards the later part.
---
Wings on Body. Protection Layer
Because it is a felted cab, it is possible to securely sew through it. So firmly and closely attach wing to body.Sew on the small wing as well. The rough edge of the small wing should be hidden behind the bulk of the body.Optional: I decided to protect Lilly Owl with a layer of Crystal Clear Acrylic spray so that she will be better equipped to meet the ravages of fingers in the years to come :DAllow work to dry fully before proceeding.
---
Eyes, Part II
Use some pins to help mark suitable eye positions.
Use an awl to make eye-holes larger through the felted body. We will need to be able to thread some wires through.Cut 2 lengths of wires. I used 30 gauge copper wire.
Curve each in half and stack eye-elements (rivoli button, filligree cap, button).
Thread through the eye-holes in the felt cab.Secure wire on the back. I have used small, clear buttons as washers in the back.
---
Wire Legs
I am still using the 30ga copper wire.
2 lengths of wire per feet.
Using 2 wires and treating them as one piece, make a loop as per normal. Creating this closed loop will enable you to sew feet on without fear of thread slipping out.Then twist all 4 pieces of wire to form a thick coil. This will be the top part of Lilly Owl's legs.Neatly cut off one wire (coz Lilly only has 3 claws). Crimp the cut edge so that it does not catch.
Form the ends of the "claws".
Test positions of legs.
When happy, sew onto final (orange) backing. At this stage, it is nigh impossible to sew onto the back of the felted body.Glue final backing to back of felted body. Make sure that glue does not go to the edge. We will be beading along the edge and you won't enjoy gummy needles!
---
Finishing Off
Normally I would secure all pieces together with the edge beading. However, Lilly Owl is a bit fat. And to expect the edge beading to sit properly without more help is unworkable and unfair.
So first, sew all round the edges – firming attaching body to final (orange) backing.
Then bead all round. I have used
Ladder Stitch
.
Lilly's ears are beaded on after the bead edging is completed.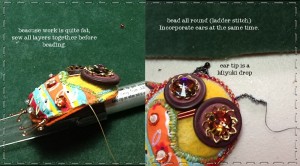 ---
Pictorial Steps
You can choose to go through the pictorials steps by clicking the thumbnails below.
You can view Lilly Owl, settled and in place in "Lilly By The Sea".
---
Materials Used
Wool roving
Buttons
Swarovski crystals (rivoli buttons)
30ga copper wire
fabric (various)
glass beads (Miyuki, Czech) including Miyuki drop beads
.. and stuff!
And that is the story of how Lilly Owl was poked, felted, and beaded into being. You can chat to Lilly by leaving your comments below. 🙂
Lilly Owl was born in July, 2014. She was named by the wonderful Beverly Reynolds, USA.