This labradorite necklace is full of life and joie de vivre.  It forms part of the "Labradorite & Friends" collection.  There are a huge number of steps and processes in the making of this necklace.  So I have broken up the process into separate articles in the hopes it will be more useful to my readers.
How to Make the Labradorite Necklace
As (almost) always, start with a rough sketch.
Tip
: the sketch is even more important when there are many connection points to consider and create.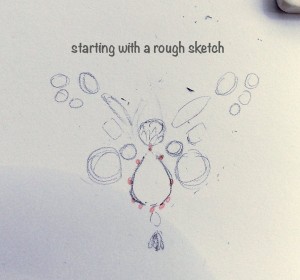 Next, just a rough layout to get the juices flowing …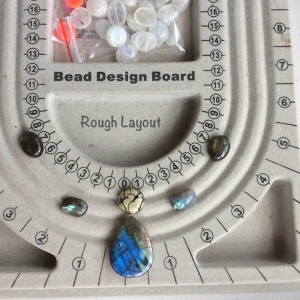 Labradorite Focal – Wire Netting Bezel
Using the rough sketch, mark out the likely connection points (red).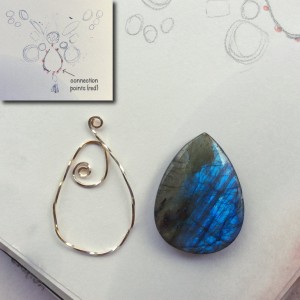 This large labradorite pear drop will be bezelled with wire netting.  The connection points (closed jump rings) will be affixed as we wire-net. See How To Wire Net a Cabochon with Connection Points for steps and detailed photos.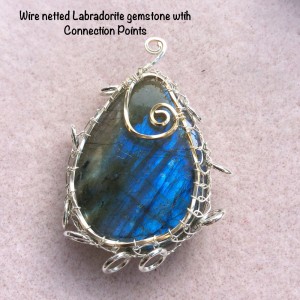 ---
Other Bead Bezel Cab Components
In this section, I will not go into massive details.  I will however detail enough to give you some clear idea as to the progress.
Yunita's Lampwork Cab
This beautiful cab was created by Yunita (artist at Yuni Glass Art). I love the multi-dimensional look of it.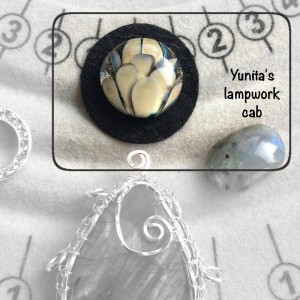 For this, I bead-bezeled over a felted backing. Mark the connection points on the rough sketch.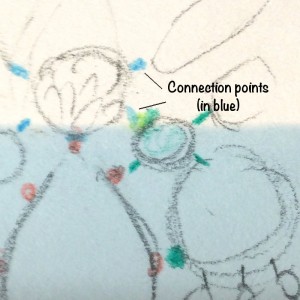 Then bead bezel round cab, adding the (soldered/close) jump rings where you might need the connection points.  The final round is woven with ladder stitch.  The jump rings are affixed and secured in this row.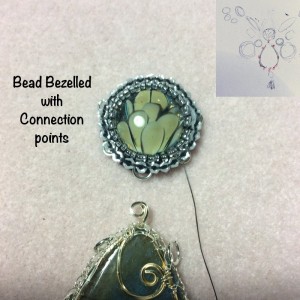 Rainbow Moonstone Cabochons
Keeping in mind that a design thens to organically evolved as it is creating, one has to keep testing the layout as each component is completed.  Here we will be adding the rainbow moonstone gemmies.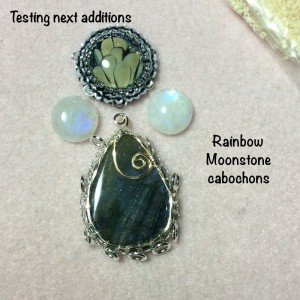 Start linking the finished components when it feels right.  As the components in this Labradorite Necklace will be hanging by links, it is advisable to start linking sooner rather than later.  How it sits when hung and how it sits flat can produce quite different results.
Using the sketch, determine the connection points (green) for the moonstone cabs.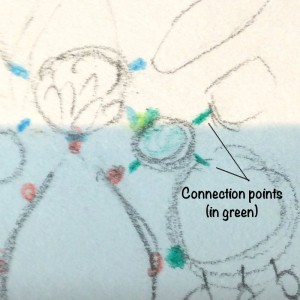 Then using the sketch as a guide, bead bezel around the moonstone cab, adding the jump rings at the requisite connection points.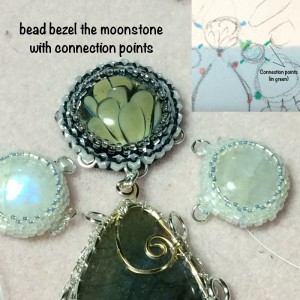 Tip
: It is a good idea to create matching components at the same time.  It is very easy to forget number of beads and/or other inclusions if they are worked separately.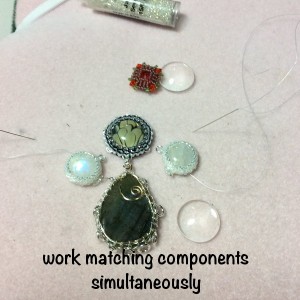 ---
Clear Cabochon – Bezel with O-Beads and Superduo Beads
Next, we will do the clear glass cabochons.  As this is quite a detailed and separate technique, please refer to Cabochon – How To Bead Bezel with Superduo and O-Beads.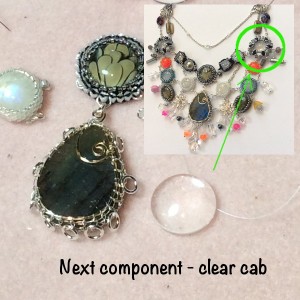 The finished beaded bezel clear glass cab looks like this:
To create the connection points on this beaded cabochon, I just made used of 15/0 seed beads and closed jump rings.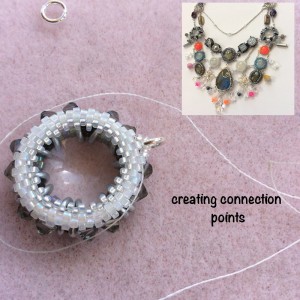 ---
"Rectangle" Components
Next, we create the "rectangle" component, as per our sketch.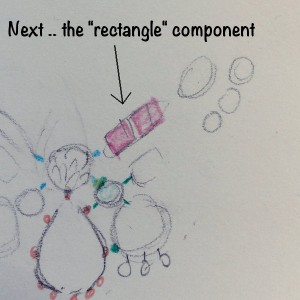 I decided to create this with two (round) Swarovski rivolis.  I bead bezelled each to form a square and then joined them to form a rectangle.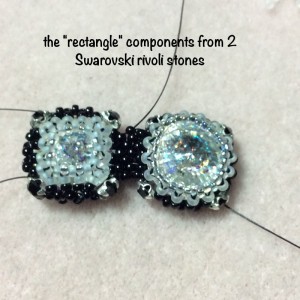 Please refer to How to Bead Bezel Rivoli Into a Square for detailed steps.
Once you have the two bead bezel square rivolis, you can join them together (with peyote stitch) to form the rectangle component.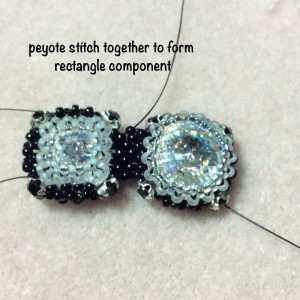 ---
Joining Components Together
It is time to start joining components together.
And to keep trying various layouts.  This can be quite tedious but necessary.
Tip
: a pinnable mannequin is wonderful and essential. It is necessary to be able to pin up the work (in progress) to get a better idea of how it actually looks.
Below are various layouts that were tried (and rejected).
After that, it is a matter of adding components – one by one, link by link.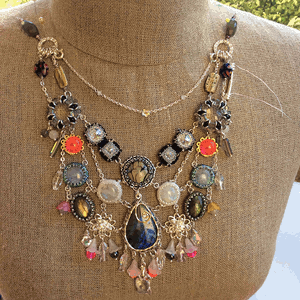 The rest of the necklace is made of seedbeads strung on tigerwire (for strength).  The clasp is a magnetic fold-over clasp.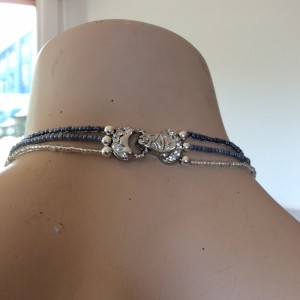 Note: the sterling silver chain is detachable.  It converts to a fine bracelet.
---
Close Ups of the Labradorite Necklace (component details)
---
The Finished Labradorite & Friends Necklace
Materials in Labradorite Necklace
Labradorite gemstone cabochons
non-tarnish Silver wires
Yuni Glass Art cabochon
Rainbow Moonstone gemstone cabochon
Miyuki japanese seed beads and delica
Swarovski crystal beads, rivoli stones, rose montees
Czech beads
Sterling Silver chain
---
Other Jewelry in the Labradorite & Friends set:
labradorite necklace (this)
---
---
---