This labradorite earrings II is part of the latest "Labradorite & Friends" jewelry set.  I just posted the labradorite bracelet.  For this pair of earrings, I have more detailed steps, how-tos, and tips ..
How to Make Labradorite Earrings II
It is always useful to start with an idea-sketch – no matter how rough.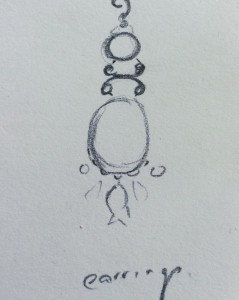 A preliminary layout also helps. Layout the main ingredients (hot pink resin cab, Swarovski bead, metal connector, labradorite cabs)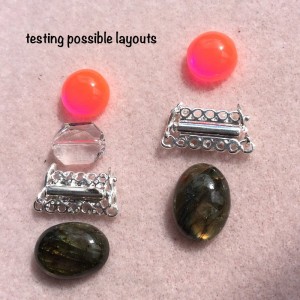 Using (round) felt pieces as backing for the resin cabochon. Glue cab onto felt backing.
Tip
: As the cab is translucent, you can markedly change its visual colour by the colour of the felt backing you choose.
Mark out the possible connection points (using the draft sketch as guide).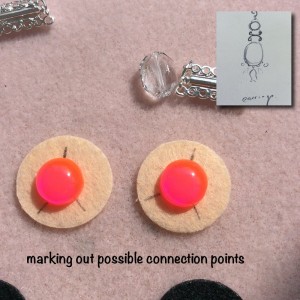 Start the bead-bezel process. I am using Miyuki 15/0 Gold to start.  Firmly attach (closed) jump rings as connectors – at the connection points previously marked. You do this as you go round the cab; then carry on with the seed beads around the cab.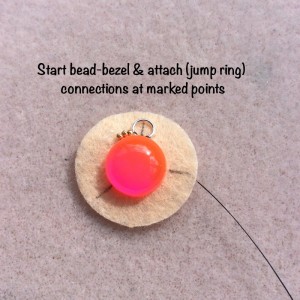 This next pic shows one side completed (first round & connectors).  It is then trimmed all round (leaving about 2-3mm edging).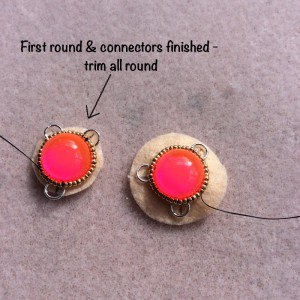 Finish off the edging with 8/0 cut beads – using ladder stitch.
Tip
: stitch round twice for extra strength.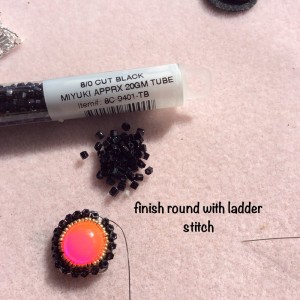 I also decided to "top off" the row of black with tiny 15/0 translucent AB seed beads.
Tip
: this makes it the 3rd round of stitch along the edge ensuring good strength.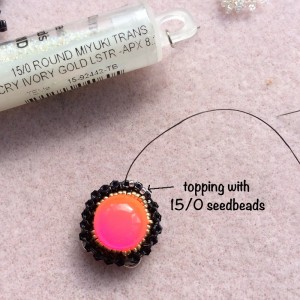 I have decided to finish the back with metal filigree. This will give it a more unique finish to the back.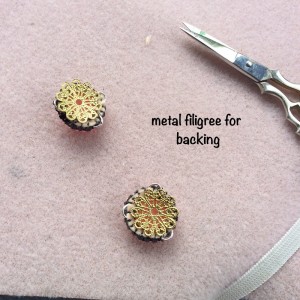 However, after the bead-bezelling, you might find that the beaded cabochon is a bit concave on the back. This was true for me. So before gluing the metal filigree to the back of the cab, I "domed" it so that we have a much better fit.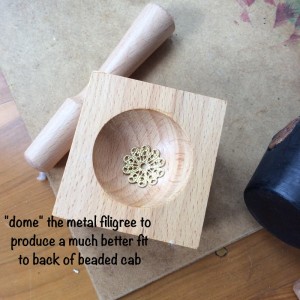 Tip
: I have used Araldite glue for truly maximum strength.  (Thanks to
Chantel McCabe
for this tip.)
This pic shows the back of the of the Labradorite Earrings 2.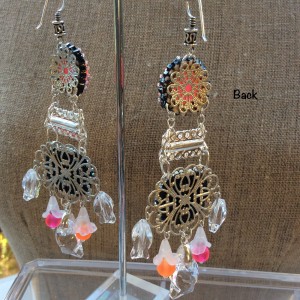 That is pretty the end of my how-to tips and tricks.  The labrodorite cabochon is done in pretty much the same way.
Tip
: When making earrings like this that involves multiple elements and which may change along the way, it is a good idea to do both sides jointly.
---
Detailed Images of "Labradorite & Friends" labradorite earrings 2
("2" because there is another pair before this – which I will post later).
Note that the resin cabochon is quite amazing in different light – so I have included multiple images under different lighting conditions.  The same with the amazing labradorite gemstone.
---
Detailed How-To Labradorite Earrings Images
The gallery below is if you would like to see all the detailed instructional images in one go.
---
Materials for Labradorite Earrings
resin cab
Swarovski crystal beads
labradorite gemstones (cab)
Miyuki 15/0 – Galvanised Gold
cubic zirconia copper ear wires (silver plated; zinc and nickle free)
cubic zirconia copper ear wires (silver plated; zinc and nickle free)
Other Jewelry in the Labradorite & Friends set:
labradorite earrings II (this)
---
---
---