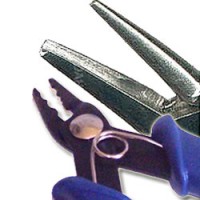 The many different jewelry pliers and cutters available can make it confusing as to what to buy and use. Here we will attempt to throw some light on the differences.
By the time you land here, I am sure that you already have some jewelry pliers of your own. And you might have come across some other specialized ones you are wondering of, if not desirous for. I don't blame you coz I love mine, I want to have more. And it is because the right ones can make such a Big difference to your finished product. AND it makes the jewelry making (or craft work) so much more enjoyable.
And dare I confess it? Just touching my quality pliers give me a thrill of pleasure. Yes, I am made up strangely that way.
---
The Importance of Correct Quality Tools
Using the correct jewelry plier will give you professional finished crimps, neater loops and coils. It will save you injury arising from the use of inappropriate tools, and to me, the best of all – it makes the whole work process so much smoother and much more fun, every step of the way.
---
General Purchase Considerations
Q. Should I buy a longer or a shorter nose plier?
Generally speaking, longer nose pliers give you more reach. However the shorter ones offer more strength and stability. You will find you have a need of both at different times. Ideally, it would be great to have both types. But if you can't at the moment, then go for the one that fulfills most of your needs now.
Q. Spring Loaded or Not?
Pliers and cutters can come spring loaded (box spring, single leaf, double leaf) or not at all. Personally I find spring-loaded tools the easiest to handle especially with prolonged, repetitive work and there is less strain on the wrist and fingers and more precision in the work.
Q. What gives the best non-slip holding especially with objects like round beads?
The compound parallel jaw and the ones with one metal jaw and the other nylon provides the best non-slip holding. The former is much better but generally, more expensive.
Q. Does the Tip Size matter?
For fine work, you will need finer tips. And for those, it is best to look for box-joints as they have much less wear and "jaw slippage" over time.
Q. What materials should the tools be constructed from?
Many are stainless steel and the advantage is that they are rust-resistant. However, their bench life is less and the surface (unless rigorously maintained and protected) have a tendency to show nicks. Harder steel performs much better, stronger, and longer. But they are not rust-resistant. This is the preferred material of the two. Just oil them and store them away in an old sock as part of your routine care. Also rubbing them occasionally with rust inhibitor like WD-40 helps.
Q. What kinds of joints are the best?
(Please see the Joints section below for informed details)
Care Tip for New Tools
Soften and round off edges of jaws with a fine sanding stick before first use.
Shine up the jaw of the pliers.
These two steps ensures that new tools do not leave marks or mar the jewelry as you work with them.
---
Pliers and Cutters: Joints, Construct and Considerations When Buying
The construct of pliers and cutters are basically the same: pair of handles, a pivot point, and the head section (the jaws). The basic functions are for gripping, bending, straightening, twisting, and cutting. They have evolved to many specialized forms for specific-orientated tasks, within various industries.
Lap Joints vs Box Joints – Which is better?
This discussion applies equally to pliers as well as cutters. Box Joints are usually better. But don't dismiss the lap joint tools out of hand. It is true that generally speaking, the cheaper tools have lap joints. They are easier to manufacture, hence cheaper. However even Lindstrom, perhaps the most respected (and highly priced) and sought after in the trade, produce Lap Joint pliers and cutters.

Lap Joints: one side of the jaws overlaps the other. Without further distinction, these generally mean Lap Joints with rivets – they are held together on a pivotal rivet.
This is the most common joint used in pliers and is suitable for most general purpose tasks, where fine precision is not called for. However the rivets wear and loosen over time and do not offer long-term precision and performance; they have a tendency towards "jaw roll", also known as developing "play" over time. This is especially felt in small pliers required for intricate work. These types of joints are however quite suitable for larger pliers intended for non-intricate work. And yes, even Lindstrom produces these tools with Lap Joints (with rivets).

Lap Joints with Screws: with this construction, Lindstrom technical analysis have shown that this (as well as the box joint) provides the best performance and longevity. The screw allows the rigidity and alignment to be maintained; the screw can be tightened and avoids "jaw roll".

Box Joints: are constructed in such a way that one side is "boxed" within the other. It was initially developed for the jewelry trade. This construct ensures the two halves of the tool remains undisturbed over time, thus ensuring long life with minimal wear. Like the Lap Joint with adjustable screw, this is more expensive to manufacture than the standard lap joint.
The rigidity and sturdier construct of the box joint means that it can support longer jaws and with greater taper. And that means that the taper can be finer than with other joints – ideal for precision work.
---
Well Known Brands of Jewelry Pliers and Cutters to look out for
(in alphabetical order)
Beadsmith
Beadalon
Esca Italy
Grobet
Lindstrom
Wubbers
Xuron
---
Types of Pliers and their Uses

Bent Nose Pliers – they are like chain nose pliers but with bent jaws. Give better access to tight areas without blocking your line of vision. Less hand and wrist fatigue. Ideal for smoothing down or tucking in ends of wrapped wire, holding and/or picking up small objects.

Bow Opening – For easy opening of bows, loops, rings. Notches on the other jaw "grabs" and holds wire securely. Designed to open jaws on squeezing handles. Useful in chain mail work, watch repairs.

Chain Nose – Points taper with cross-section round on the outside and flat where they meet. Most tradition and popular. Jaws may be serrated or smooth. Smooth jaws preferred in jewelry making as they don't mar like the serrated ones will.

Compound Parallel (or Parallel Jaw) – has compound joints, which means the jaws will always remain parallel. Perfect for holding difficult items e.g. round beads. Can be found inflat nose (rectangular cross section) or chain nose(curved outer cross section) styles. Nylon jaw ones also available.

Concave & Convex – Consistent width jaws, one concave and other, convex. For creating gentle curves in wire/metal sheet; intricate wire designs, shape earrings; bend ring shanks.

Concave & Round – Similar to Concave/Convexbut this is more suitable for making smaller loops and jump rings.

Crimping Pliers/Crimper – for a professional finish to crimp beads. Comes in various sizes, depending on size of crimps. Make sure you know the crimp size(s) you will be using prior to purchase/use. (see How to use Crimpers)

Flat & Half Round – Preferred by some over the Concave and Convex jaws, the top flat jaw makes it less likely to dent material being bent. For even further protection, the flat jaw may be made of nylon.

Flat Nose – for bending wires/metal sheet; hold bezel wire during filing; open and close jump rings. Jaw ends are flat with rectangular cross section. Suitable for bending ring shank; forming large diameter loops.

Flat & Round – One jaw is round and tapered (like Round nose) and other, flat (like Flat nose). For making small loops and jumprings; bending tight curves in metal sheets. Some have flat nylon jaws to minimize marring.

Nylon Jaw – for scratch free metal/wire work. Good or work-hardening and straightening wire. Many other plier types now incorporate nylon jaws because of their desirable non-marring qualities. Replacement nylon heads are usually available.

Rosary – Normally used by beading artists. A 2-in-1 Combination of Round Nose and Side Cutter: round jaws for wrapping or holding beading cord; cutter – cutting wire.

Round Nose – Both jaws have round cross section, tapering to a finer point. For wire wrapping, making small wire loops, filigree work.

Split Ring – designed to easily hold open split rings while you work. Useful for repetitive split ring work.

Wire Wrapping/Wire Looping – for making small quantities of jump rings uniformly. One concave jaw and one round (non-tapering) jaw. The round jaw is at times "stepped" to make various uniform sizes of jump rings or wire-wrapping.
FYI:
---
Types of Cutters and their Uses
The cutter you will choose for your project will depend on the finish you want on the wire. Some cutters are stronger than others and can even cut tigertail and larger gauge wires. Always read specs when making a purchase. The material used to construct the cutters will also have a large impact on the precision, durability, and alignment of the cutters, Look out for adjustable screw joints which provides long-term alignment for the cutting jaws.
Cutter Edges and Wire end results
Note: the images show the end result of the cut wire.


Bevel Cutters – very durable. But leaves a large pinch on the wire end.
Flush Cutters – Not as strong as Bevel Cutters, wears out faster. But leaves only a small pinch.

Super Flush Cutters – Leaves almost no pinch.
Double Flush Cutters – Leaves no pinch on wire ends.
---
Types of Cutters

Diagonal Cutters / Side Cutters – Most common of the cutters. Available in bevel, flush, and super flush cuts. For wire cutting and small metal sheets. Their tapered ends facilitates getting into tight areas.

End Cutters – Better for cutting protruding wire ends than diagonal cutters. Also ideal for cutting ends of a ear post. Look for box joint cutters where possible and with polished ends (to minimize marking).

Memory Wire Cutter – specially forged cutters designed for heavy-duty wires and a must for memory wires.

Oblique Cutters – similar to the end cutters but with slightly offset jaws. This offset provides increased clearance. Found in flush cut and super flush cut.
---
To Buy or Not to Buy?
You might have already come to this conclusion yourself, noticing how many of the jewelry tools provide over-lapping functions. There really is no need to purchase every specialized tool that is recommended or commented upon. You will find that a few core ones, like flat nose, bent nose, round nose pliers, and some good cutters will fulfill most of your needs, most of the time. The really specialized ones become handier and more needful as you more fully immerse yourself in one particular niche or another.
But of course, if you are a bit of a gadget freak like myself, resisting temptation in the face of a real quality tool, will be a hard job!!
---