This Drawstring Tapestry Crochet Bag is also a one-time, one of a kind design. This bag is crocheted with the super-intriguing Miracle Beads, aka Magic Beads. The 'magic' of these beads is that they will glow under natural light. So at the most unexpected, delightful occasion, your bag will seem to burst forth with an inner glow. Furthermore, they have the mesmerising illusion of a bead within a bead. This 'magic' has to be seen to fully appreciated.
This drawstring tapestry crochet bag is worked like the traditional Wayuu bags, but in a firmer, stronger crochet stitch for extra durability.
---
Specifications & Features
• base diamater: approx. 23 cm / 9 in
• height: 24.5 cm / 9.6 in
• very strong and sturdy bag
• can be worn over shoulder or across body
• bag strap with adjustable length
• classy, secure metal grommets for drawstring
• hand-crocheted matching drawstring with hand beaded stopper bead
• fully lined with internal pockets
• strong hardware for strap buckle
• reinforced round mandala crocheted base
Core Materials
• strong acrylic yarn
• galvanised silver drops, cut crystal beads, luminous clear seed beads, faceted rondelle beads, miracle beads
• metal buckle
• metal grommets, rivets, & eyelets
• strong lining
status: g510 NML n/l
Techniques
---
I have included grommets for the drawstring. The grommets allow for easier opening and closing as the drawstring passes easily through the metal grommets. Not only do the grommets add to its good looks, but it also makes for a stronger bag. The drawstring is hand crocheted in strong cording method.  (See how to crochet duo sided crochet cord.)
This bag can be worn over the shoulder or across body. Bag strap has a metal buckle which allows it's length to be conveniently adjusted.
The stop beads on the drawstring are hand beaded large beads made from galvanised silver drops, cut crystal beads, luminous clear seed beads, faceted rondelle beads, and 6mm miracle beads.
Bag is fully lined and comes with an 2 inner pocket – suitable for phones and the usual and necessary miscellaneous objects.
Even the base of the bag is an attraction in itself – worked in overlay crochet to produce a colourful, reinforced mandala. (Dandelion Mandala design, a LillaBjornCrochet pattern).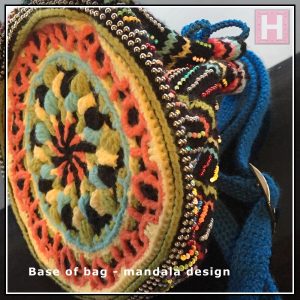 The colours of yarn and beads used here are boldly and happily bright, colourful, and filled with va-va-voom life!! Suitable for daily wear, party wear, travel, and for fun journeys.
---
WIP notes & photos
And for a completeness, I will just leave some WIP photos here.  I often find them very useful over time.
For fuller detailed, how-to steps, please refer to How to Make Tapestry Crochet Bags.
---
Hope this was an enjoyable blog for you.  Carry on Beading!