Crystal Effects, Coatings, & Finishes for Swarovski Crystals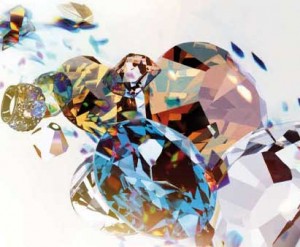 Crystal effects are coatings or surface finishes that are applied to the glass/crystals to enhance their appearance. These coatings are alternatively referred to as Stone Effects or Finishes. Most of the names of these crystal finishes follow the Swarovski naming.
Crystal effects are most commonly applied to crystals, especially the Swarovski crystals, but they can and are also applied to stones, glass pearls, glass beads, and even plastic & acrylic beads.
Coatings are normally applied to only half of a bead. Whenever the coating is applied to both sides of a bead, it has the suffix 2X; e.g. CAB 2X.
Crystal effects & finishes add beauty & character to the crystals and sometimes can enhance them dramatically.
---
"P" Protective Layer
In September 2010, Swarovski introduced the protective layer "P" for effects Crystal Bermuda Blue and Crystal Tabac.
In February 2012, Swarovski has extended this "P" layer to include Crystal Comet Argent Light and Crystal Vitrail Medium.


This "P" layer applies only to Pendants and Beads at this time of writing (Feb 2012). This protective layer is a special lacquer system that is applied over the effect. It protects the effects from scratches, fingerprints, and prevents moisture (e.g. sweat) that could lead to corrosion penetrating into the effect layer.
---
Swarovski Ordinary & Special Effects
Swarovski separates their coatings into what they call "Ordinary" and "Special Effects". However some of the "Ordinary" coatings are among the most beautiful and sought after of all the various effects.
Ordinary Crystal Effects
Clear crystals are normally referred to as Crystal, and if it has a coating applied then it will be called Crystal + Coating-Name. E.g when you have a clear crystal with AB coating, that will be called Crystal AB; if the clear cystal has a Bermuda Blue coating, then it will be referred to as Crystal Bermuda Blue; etc.
In fact it is not uncommon to have the name truncated to the name of the coating only. E.g. AB or Bermuda Blue. This is true whenever the base crystal is clear.
---
Aureole Borealis



(also sometimes spelt as Aurora Boreale or Aurore Boreale)
This crystal effect is most commonly referred to as AB finish. When applied on clear crystal, the resultant crystal is referred to as Crystal AB or CAB for short.
Aurora Boreale effect is one of the most well-known, sought after, shimmering effects. It is an iridescent coating applied to stone, glass, crystals. It gives a terrific rainbow effect which can be subtle to very obvious. It has a very light rainbow effect that leans toward a pale yellow tone, but shimmers in pink and blue as well. When applied on a color bead, it changes the color just slightly and gives it a rainbow effect. On Jet it makes a strong rainbow effect.
Comet Argent Light (aka CAL)

This crystal effect has a bright silvery finish.
When applied to the whole crystal (i.e. 2X), the crystal effects will make the crystal look like a silver bead that does not tarnish.
When applied to half of a bead, it looks very interesting, with half the bead looking like silver and the rest taking the color of the crystal itself.
Golden Shadow


The Golden Shadow is like a delicious splash of rich champagne. It gives the crystal a old-world vintage light golden coppery look.
Satin


The Satin finish gives an extra sheen to the underlying beads.
It is generally called Hematite finish when applied to Jet/black beads because it causes the beads to look like hematite. Hematite 2X is quite frequently found on coloured beads.
Silver Shade


The Silver Shade finish is a silvery coating applied to the base crystal.
It gives the crystal a subtle hint of vintage silver as well as endorsing the crystal with super shine.
---
Special Crystal Effects
Aurum


This finish is made from real gold – hence it is more expensive than other finishes. It looks like gold and is most often used on plain clear crystal throughout (i.e. Crystal Aurum 2X).
Bermuda Blue


This is also non-transparent coating.
When seen through clear crystal, it takes on a deep blue tone.
When seen directly on the surface of the finish it is a dark navy blue.
This finish is not normally used on colored crystal though it can be.
Dorado


This is a non-transparent finish with a bronze appearance.
Glacial Blue


This crystal effects produces a cobalt blue appearance. It can be applied to a colored bead.
A common use is Jet Glacier Blue (i.e. Glacier Blue finish on a Jet crystal).
Heliotrope


Heliotrope finish has a deep purple – deep green appearance when seen through the crystal.
However its outer surface can seem dull grayish brown.
Meridian Blue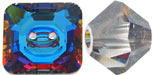 This coating is silvery on the outside with overtones of baby blue. Looking through the bead, it shines as a light blue with green overtone. Quite a magnificent finish.
Sahara


Sahara effect gives a golden blonde shiny finish. Attractive both on the surface and whilst looking through the crystal.
Tabac


A dark copper/gold finish that has a subdued but sophisticated tone when seen through the crystal. It is named Tabac after tobacco.
Transmission


Transmission is a transparent finish. It similar to AB, but it shines mostly pink when seen through the crystal.
Vitrail Medium and Vitrail Light


These non-transparent coatings are Ultra-shinny and it will produce different colors depending on how & where the light hits the surface. When the coating is seen through clear crystal, it takes on strong red and green tones. These finishes are not normally used on colored crystal though it sometimes is.
Vitrail Light is just lighter in tone.
Volcano


An extremely striking finish. Hard to tell from photos but it is silvery on the outside. However when seen through the crystal, it takes strong purple and red tones (like a volcano). Normally though not necessariy, it is used on clear crystal.
---
Codes for Swarovski Crystal Effects
The incredible Swarovski crystal effects and finishes are produced using a vacuum metal coating process. It is applied on the surface of the crystal, either in the front (top) or on the reverse (bottom) sides. Depending on the application methods employed, these processes can either produce a surface effect, a translucent effect, and/or special surface effects. This vacuum coating process can be applied to clear or colour crystals.
The charts below show the Effect-Codes as used by Swarovski. They can be very helpful when making your purchases from an authorized Swarovski outlet.
SURFACE EFFECTS
TRANSLUCENT EFFECTS
(Vacuum coating on surface)
(Vacuum coating on reverse side. The resultant effect shines through the crystal.)
image
Effect Code
effect name
image
Effect Code
effect name
AB
Aurore Boreale
BBL
Bermuda Blue
CAL
Comet Argent Light
HEL
Heliotrope
COP
Copper
MBL
Meridian Blue
DOR
Dorado
SAG
Sage
GSHA
Golden Shadow
SAH
Sahara
HEM
Hematite
TAB
Tabac
METBL
Metallic Blue
VL
Vitrail Light
METSI
Metallic Silver
VM
Vitrail Medium
MOL
Moonlight
VOL
Volcano
NUT
Nut

(only on Jet)

SAT
Satin
SSHA
Silver Shade
TRA
Transmission
Variations on Surface Effects (suffix code)
image
Effect Code Suffix
explanation
V
The effect is applied on the reverse.

If a surface effect is normally applied on the front, then this indicates it is applied on the back (e.g. ABV = AB is applied on the back).

Similarly, if a surface effect is normally on the back, then this suffix indicates it has been applied on the front (e.g. VMV=VM being applied on the front).

Z
The effect is applied to only part of the crystal (e.g. HELZ means that Heliotrope effect was only applied to part of the crystal stone).
B
Effect has been applied on 3 sides of a cube shape (e.g. ABB)
2x
Effect applied to both sides of stone (e.g. Aurore Boreale 2x aka AB2)
Special Surface Effects xxx
image
Effect Code
effect name
explanation
MAT
Matt Finish
Matt Finish effect results from a chemical matting process to entire surface of crystal. Small variations may occur.
FRO
Frosted
The Frosted effect can be done via mechanical process but only on Flat Back Roses.
COS
Cosmojet
Cosmojet effect can achieve blackening of single facets of the crystal.
---
Do All the Effects Apply to All The Crystals?
In its catalogues, Swarovski classifies its crystal effects and finishes as Ordinary Effects or Special Effects. Currently, Special Effects are only available on (clear) crystals.
Some of the Ordinary Effects are applied only to clear crystals, some to both clear and colour crystals.
The effects are available as partially applied (Half Coating) or fully applied (Full Coating).
This listing will give you a detailed general idea of whether a specific effect is available for a (clear) crystal and/or color crystal.
General Swarovski Price Variations
General Rule of Thumb: Prices vary in ascending amount for the same base article. Full Coatings are always more expensive than Half Coatings.
FYI: "Crystal" below means the Clearly Crystal (001)
Crystal
Colours
Crystal with Ordinary Effects
Crystal with Special Effects
Colours with Ordinary Effects
Crystal with Full Ordinary
Colours with Full Ordinary
---