GHHORIZONTAL tapestry crochet bag celebrates colour and joie de vivre in tribal geometric pattern.
You would be hard pressed to try and figure out why I named this "GHHORIZONTAL Tapestry Crochet Bag".  But the reason is quite simple.  It is to point at and give credit to the underlying design used as my source of inspiration.
Credit: The source of design inspiration comes from Artist Vasare Nar.  I originally found an image of
her design on Pinterest
 and later, from her own site. Check out her 
GHHORIZONTAL original design
 where you can find links to her design in various product forms (prints, rug, ipad skin, etc.)
As you can see below, my graphed is similar but not identical to the original pattern. Nonetheless, it definitely was my source of inspiration.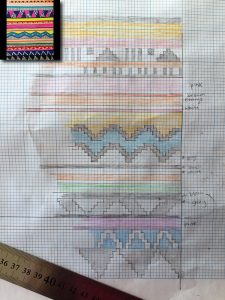 The circular base design found its inspiration from a graphed pattern I found on Pinterest.
And as with my other tapestry crochet bags, I have used large grommets to provide the holes for the drawstring.  So much better looking than just leaving holes in the work, don't you think?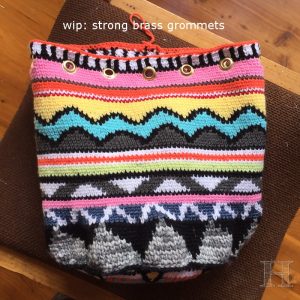 Some detailed photos of the GHHORIZONTAL tapestry crochet bag.
---
Specifications & Features
(Following links, if any, open in new windows)
base diamater: approx. 28 cm / 11 in
height: 32 cm / 12.6 in
very strong and sturdy large holdall bag
can be worn over shoulder or across body
bag strap with adjustable length
classy, secure metal grommets for drawstring
hand-crocheted matching drawstring with polished wood and Czech beads
unlined
strong hardware for strap buckle
Core Materials
strong acrylic yarn
Czech beads, wooden beads
metal buckle
metal grommets
status: g340 NKL et
---
Techniques
---
---
---