I don't know if I have mentioned this.  But for the last couple of weeks, my head has been so much into geometric shapes (only very basic shapes), that I feel as if I have talked (in my head) about nothing else! I am gathering tools for beading .. and crafting … and mix media work.  And right now, geometric beaded shapes and how to achieve them have taken one of the central stages.  (Yes, I do have a number of central stages going at one time.  Which explains the wuzzy, fuzzy, dizzy feeling in my head!)
Long (long) ago, I read/heard/was told that "You have to know the rules to be able to bend them."  I must have been a teenager.  My only inner response was incomprehension and a determination to break rules.
"You have to know the rules to be able to bend them."

After these many decades, I have a much better understanding and appreciation of what the term means.  Especially in the beading/crafting angle. Sometimes to be able to do the best freeform art, to be able to flow from one technique to another, one has to have the structure of knowledge behind it.  To know how to transit from a peyote stitch to an herringbone seamlessly, to move from wire crochet to wire netting in the same piece, to bead geometric shapes to make it flow with the curly ideas that may emerge.
For one to be able to have the flexibility to move, structure, design, create … and let go, one is so very much helped by having the "basic tools" or basic skill set at one's fingertips.
And because I am so far from that ideal, so many miles and skills yet to indulge, I am spending a lot of time getting together some of the basic beading skill sets I will need and want; learning the core rules. And foremost amongst them is how to bead geometric shapes.
To this particular focus of endeavour, I must say Big Thanks and give immense credit for much of the groundwork geometric basics I have learnt at Contemporary Geometric Beadwork (site) by Kate McKinnon.  The works shown there are inspirational, uplifting, and happy-fying. The site provides free .pdf of instructions.
You can get the very highly reviewed and recommended Contemporary Geometric Beadwork books by Kate McKinnon.  There are currently two volumes.  Both of them are highly rated by real users.
---
I have been so impressed with her work thus far that I have just bought "The Jewelry Architect" by Kate McKinnon. The Kindle edition. (It is so hard to get good beading books for my iPad that I just had to give this a go. When I know more about it, I might do a review.) Anyways, this is the (kindle) book I bought. It really looked too interesting to resist!
---
But I have done a mini-digress. Geometric Shapes: Tools for Beading. That's what I was talking about. So in the coming posts, you can expect to see some of the results I played myself into by exploring just very, very basic shapes.  I have been amazed and happy so far to where playing with beaded shapes can lead to – even if they are only very basic shapes!
If I remember, I will add a list here of the projects using basic beaded geometric shapes: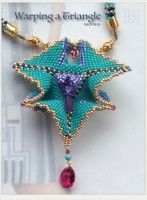 "Warped Beaded Triangle" necklace (CH0359)
---
---
---