I thought I might as well give freeform beaded crochet bracelet a go as the itch to do it is strong and some bright colours were running through my head. Disturbing my sleep. So here is "Warm Dunes". My first run at running willy-nilly with beads, and yarn, a sharp pointy hook and going blindly at a freeform crochet bracelet!
The bracelet can be worn full length, or slightly scrunched on the wrist.
I just love the silky vibrancy and feel of viscose yarn.  So I decided to use viscose yarn as a main component in this piece.   Viscose yarn has a magnificent drape. And it is cooling.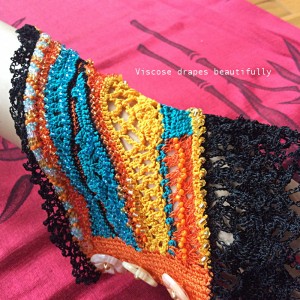 This freeform beaded crochet bracelet is really freeform.  But obviously there is a bit of structure to the design and shape.  I started off by making a tubed beaded crochet tube.  Wanted to see if a beaded crochet tube could be incorporated into a bracelet as an integral part of it (viz. not sewn or attached on later).  And the experiment worked. Beads are threaded onto yarn before the crochet (for both the crochet rope and the body of the bracelet).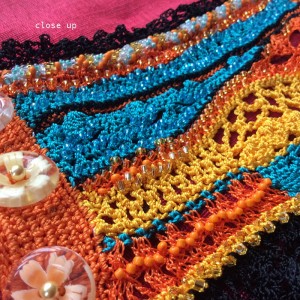 For this freeform beaded crochet bracelet, I worked this as an almost straight tube.  First the beaded crochet rope (at the top of bracelet).  Then the body: colourful "dunes" with a mix of colours and random choices of crochet stitches. Then the banding for the buttons and buttonholes.  Then the top and bottom flared frilling.
The two photos below show the bracelet laid out flat.  I have included a photo of the reverse side, just for your information. Click on any of the photos for larger versions with better details.
The freeform beaded crochet bracelet can be worn with buttons on top or below as either way, they can make quite a statement.  Each glass button is topped with a Swarovski pearl.
This "Warm Dunes" freeform beaded crochet bracelet is meant to be a snug fit.  So check dimensions below.
Dimensions:
Depth (incl frills): 14cm
Circumference: 18.5 – 19cm (is mildly stretchy)
Materials:
Viscose yarn
Polyester yarn
glass seedbeads
glass buttons
Swarovski pearls
status: g35 0FL et
---