This week, I thought I would devote some time to making things for the house so the Hearts Sun-catcher Windchime popped out.
How To Make the Crystals Heart Sun-Catcher
Make Top Hoop
1) get some thick, strong wire. I used 1.25mm diameter galvanised wire (from hardware store). This is very hard and strong.  Luckily there is not any bending needed.  I am just going to use the curve in the coil to make the top hoop for the heart sun-catcher.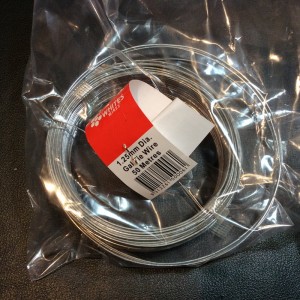 2) Cut a few coils, pull them into the approximate circular size you want. Tape at few places to hold shape.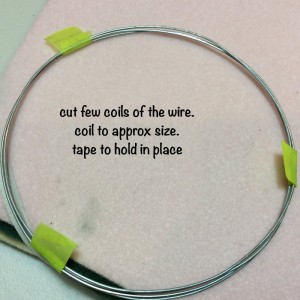 3) Now we want to make 4 top loops. This will face upwards. It will be used to connect chains to the top so that it can come to an apex and be hung.
Mark the locations of where these loops will be.  If you draw lines between each pair of opposite points, where they intersect should form 90deg. (I know, mine are a bit off.  Late night manoeuvres is my only excuse.)
4) To make the 4 top loops (and to coil around the top loop), I am going to need some wire.  I chose to use thick but soft silver plated aluminium wire (1mm dia).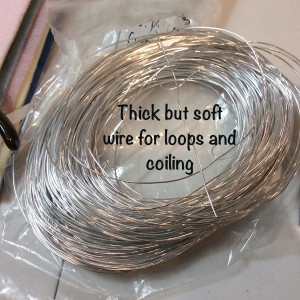 Using the thick soft wire, make 4 tops loops at the marked locations. Just leave the ends sticking out as is.  We will spiral-finish them later.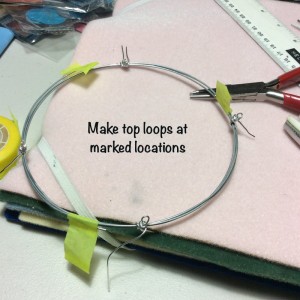 5) I have run out of progress-photos for this stage.  Photo below shows that I have used the thick but soft wire to coil neatly around the top hoop.  And you can also see the beginnings of when I am about to hang the crystals and decorations off the top hoop.  I have used tigertail wire to hang the crystals, bells, and beads.  This is pulled tightly through the coiled top so that it sits between the tightly coiled top.  The tigertail is also double crimped to ensure that it will hold and carry the weight of the large heart crystals.
Note: you can also see the loose ends from the 4 top loops (from before) have now been neatly spiral-coiled to finish.
I have not shown the hanging of the crystals etc. as that is a matter of choice. I also incorporated clapper bells into the dangles in the hopes it will provide sweet music to our home.
You can go wild with your design.  Hope this short how to make crystals sun-catcher article has twigged some of your creative juices.