Crochet Hanging Storage Bag – photos and how-to details.
This crochet hanging storage bag is one of many I have done. But this is the first one that includes feature to close the bag's opening (requested).   The crochet bag is also influenced by Marimekko design (again requested by the friend).  I have designed the hanging loop in such a way that it can be hung up in multiple ways.  Details below …
Here are more photos of the completed crochet hanging storage bag/basket.
---
Crochet Hanging Storage Bag: DIY How-To Notes
Specifics
5mm crochet hook
1.5mm twisted cotton (from Industrial Yarns)
Production time: 3-4 days
Base
The bottom of the bag is based partially on an overlay crochet mandala design, "Joana's Mandala", a paid pattern by the talented Tatsiana Kupryianchyk (Lilla Bjorn).  The final circumference has 112 sts.
Body & Grommets
Crochet up body to length desired.  Any crochet stitches.
Remember to leave sufficient holes for eyelets at the top border. And that the holes must be significantly smaller than the grommet size you will be using. (8 large eyelets)
Apple the grommets.
Add Flowers (Poppies)
I referenced a few Marimekko designs while doing this.  Free hand sketch/crochet the poppies onto the bag.
Tip: Work with a cushion/bolster inside the bag while adding on flowers.  Prevents accidentally picking up double layers.
Hanging Loop
I have made the loop for hanging so that it can either be looped over a hook or looped over a bar and buttoned down.
 Drawstring Cord & Finishing

I made a knitted i-cord for the drawstring.  I used the Clover Wonder Knitter to do this (so much easier & faster!) I chose to do a knitted cord rather than my usual crochet cords because this produces a smoother cord.  That translates into smoother drawing action for the bag!
---
---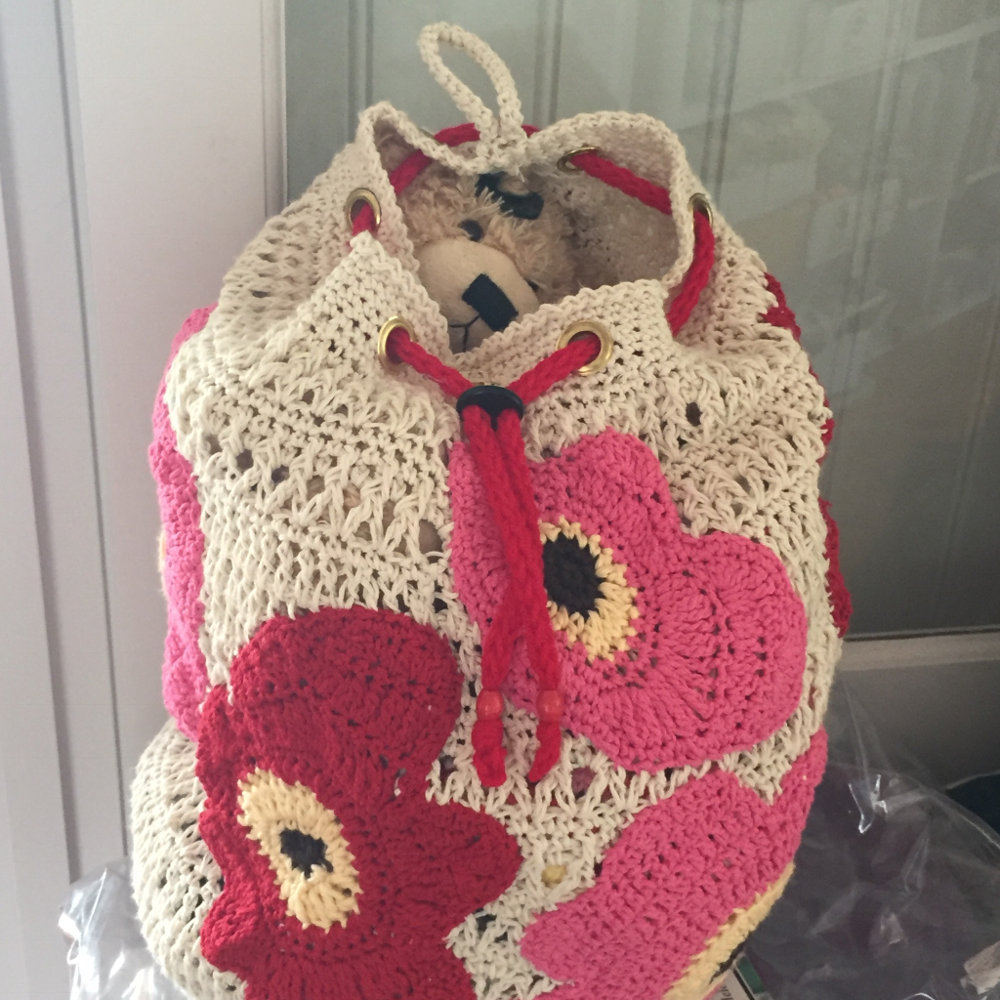 ---
---
---