How to transform ugly drawers? – collage drawers!
I have been meaning to do something about these drawers coz I so did not like their colours.  So now I have. The collage drawers is a free-form design exercise. And collage drawers are so much fun as you can you all kinds of mix media.  Here I mainly chose to work with fabric and bead embroidery.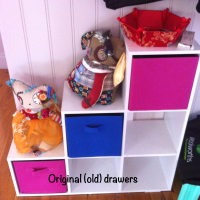 This is what it looked like to start off with.  Actually there were 6 drawers (3 blue, 3 pink).  But I am only transforming 3 into collage drawers and leaving 3 handy shelves. Pretty yukky colours ain't they?
This is in our entryway. Chiki Tikki and Melissa Windstorm like to sit there to watch us come and go.
How to make Collage Drawers
I am just giving the drawers a facelift. So I will only be working on the front face of the drawers.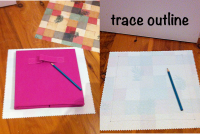 Get some pieces of material which will form the front of the collage drawers. (Mine were obtained a long time ago from Reverse Garbage, Sydney – the best recycling shopping center ever!)
On the reverse side, trace the outline of drawers to get sizing. My drawers happen to be the collapsible kind 🙂
---
My drawers have handles.   So I must measure their placement and draw outline for them too.  This will be cut later so that the handles can pop out.
IMPORTANT:
Do not cut opening for drawers at this stage.
Mark the opening for the handles.  There are various ways of doing this; but I have chosen to do it this way.
---
Drawer Handle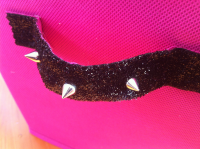 If you are going to embellish the drawer handle, you can do it now.
I have added a textured ribbon which is first glued on. (Do not glue along edges if sewing later.) The edges are then sewn to the orginal handle for maximum durability.
I have also included screw-on spikes into the handles. Use awl to make holes, then screw-on.
---
Collage Drawer – Front Embellishment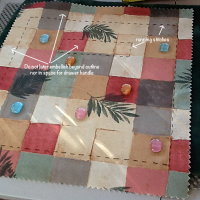 It is important to make some running stitches (to be left as embellishment or to be taken out later, if desired) along the outline (matching the size of drawer front as traced earlier).  Also the outline of where the drawer handle is going to exit from.
This is important if, like me, you intent to quite heavily embellish the front.  You do not want to embellish beyond the outlines nor into the handle space. The tacking can then be seen from the front while you are doing the embellishment.
You can also start playing around with placement of components to form your design for the collage drawers.
Then just go for it.  Sew, embroidery, glue, or bead embroidery to your heart's content. Here are some pics of my draft preliminary arrangements and WIPs (work in progress).
---
Cut Out for Drawer Handle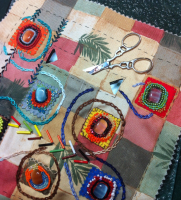 Here you can see why it is so important to have those running stitches. They help you easily see where you should and should not embellish.
---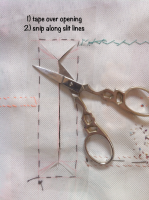 Because I am using fabric and I would like to minimize any chances of fraying. I first taped over (on reverse side) where I am going to cut opening for handles. Make sure you do not snip any of your embroidery stitches.
---
For convenience and strength, glue down the triangular flaps (on reverse side).
Once everything is embellished to your satisfaction, the handles have been done , and openings ready, apply glue evenly all over to back of your embellished material, carefully place in position over the drawer front, push handles through and glue down.  Press evenly down all over the front surface to make sure there are no bubbles and undesired bumps.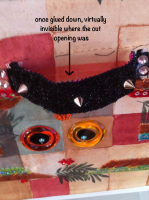 As for the handle area, make sure you glue down material that is beneath the drawer handle. Do this as seamlessly as possible by carefully aligning the slit you cut earlier.
Then carefully and neatly, glue down the edges of the material along the sides of the drawer.  While not a full (all sided) transformation, from the drawer front, none of this should be obvious.
---
Collage Drawers – The Result
Some Close-ups
---
Collage Drawers – All Pics
---
Do feel free to leave comments especially if you have made your own collage drawers. Or any kind of upcycling of furniture. Ciao!