Lilly By The Sea was my first clay play. It is comprised mainly of clay and felted Lilly Owl (of course).
First let's start with some close-ups of the finished Lilly By The Sea. Then we will have a closer look at the journey in this first clay play project.
---
Close-ups of Clay Play
First let's start with some close-ups of the finished Lilly By The Sea.
---
Journey of First Clay Play
As usual, I had some weird squiggle to guide me along. Then a bit fluff, a bit of clay … and we are ready to plunge into the unknown world of clay play.
Clay and Gemstones
The main slab was with Das, air dry clay (white). Roughly rolled out.
I then embedded various gemstone nuggets, randomly.
(As I discovered later, it really is quite secure. The clay actually shrinks a bit, hence grabbing the gemstones well.)
The little houses and lighthouse is made with Fimo. Baked of course.
When the large slab was dry (took a few days. Winter time.), I brushed on 2 layers of Mod Podge. That would help seal any cracks in the clay and further encase the gemstones.
Mod Podge was applied, front and back.
Allow each side to dry before application on other side.
---
Paint and Sand
I used 3 shades of yellow-gold tones; acrylic paints. Dry brushing.
The lightest applied first, from top to about quarter way down (fading as it goes).
The medium tone starts one third of the way down, and fades upwards and downwards.
The darkest, applied from bottom and fades and blends into the mid-tone.I don't think I did a very good job. Will have to do better in my next clay play time.
Tip:
Experiment with the paints on the underside where it will not be seen
When the slab was fully dried, I roughly sanded off bits to give it a more natural look.
---
Glitter, Sand, and Finish Slab
I mixed Mod Podge with Apollo Bay beachside sand, sequins, and remnants of sequins (the small discards that comes from the center hole of sequins). Then brushed this thickish paste on. It serves to add the texture as well as acts as protective layer.
Because I found the yellows a bit too dark, after the above dried, I tempered some Dorland's Wax with cream acrylic and light irridescent acrylic and applied that as the final protective layer.
---
Houses, Lighthouse, Tree
The houses (baked polymer clay) are brightly painted with acrylic paints. As too the light house.
The lighthouse is topped with crystal rondelle, faceted oval crystal bead, and patina-ed bead cap.
I always find it helpful to have some kind of guide. So using some sketches of trees in the shape I wanted, I created mine from 30ga copper wires and crystal beads.
Even though it is not obvious here, my copper wire was brand new and too bright and shinny. So I darkened it with Gilder' Paste (Coral Red).
---
Materials Used in Clay Play
Das – air dry clay
Fimo – polymer clay
wool roving
copper wires (30ga)
acrylic paints
Mod Podge
Dorland's Wax
Gilders Paste
Gemstone nuggets
Apollo Bay beachside sand
sequins and flakes
crystal beads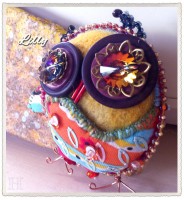 The creation of Lilly Owl was a full length, days-long procedure.  There are step-by-step on how to make mix media Lilly Owl.
---
Footnote: Installing Clay Play project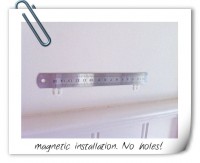 More for my record than anything else, Lilly By The Sea was installed with the simple magnetic system.  I didn't want any holes in our walls.  I didn't want damage to the wall. I wanted to be able to easily move the piece in future.
I glued 2 pieces of very strong but small rectangle magnets to the back of the clay play project.
On the wall where I wanted it to sit, I used a metal ruler and stuck that to wall using small Commander Strips.
After 24 hours (to be safe), I merely magnetically stuck clay play Lilly By The Sea to the wall, next to our front door.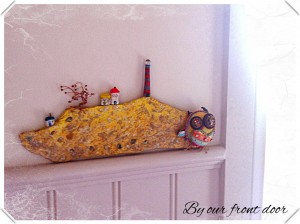 Clay Play Lilly By The Sea was made in July 2014
---
---