Some years ago my mom gave me a jade bracelet.  Or rather, she re-gifted me the jade bracelet.  Apparently it was from my childhood.  When I was tiny.  So of course I am now way too big to wear it.
I stored it away these last few years, thinking one day I will get round to "doing something" about it.  But a walk with cancer has taught me that one should store less, enjoy and use more!
The childhood jade bracelet is made with symbolic Jade round pieces, encased within and link-chained with 24K gold.  (24K gold is very yellow, expensive, and very popular in Malaysia – which is where I originally hailed from).  Gold is not a metal I often work with.  Which added to my procrastination period.
However I have finally "done something" to the childhood jade bracelet.  It is now both a necklace or a wrap around bracelet.  And I love it.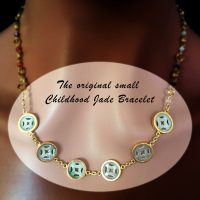 I should have taken a photo of the small bracelet.  But obviously, I didn't.  Anyway, believe me, it was too small for my wrist.  And I wanted to wear it. So I did something fairly simple. But in the end, quite adorable (I think).
I especially like things to be versatile.  Don't you?
So now, I can wear this sentimental childhood jade bracelet as either a gem friendly necklace.  Or as a trendy wrap-around bracelet.
---
Repurposed as a Necklace
Repurposed as a Wrap-Around Bracelet
Double Clasp for Security
I have no intention of accidentally losing this sentimental jade jewellery which mom has kept for me all through these decades.  So I have given it a double clasp.
handmade beaded toggle clasp
magnetic clasp
Some Notes on Repurposing Childhood Jade Bracelet
I extended the childhood jade bracelet using gold wire, gold eye pins, and small, multi-coloured natural gemstones (facetted rondelles). For the clasps, I cut up some gold chain to use as extensions.  And also wire-linked with Swarovski 3mm crystal pearls.
---
Materials
vintage jade round, carved jade pieces
24K gold findings
natural, multi-coloured natural gemstones (facetted rondelles)
hand-made beaded toggle clasp (with Everbrite protective coating) – see: how to make beaded toggle clasp
magnetic gold-plated clasp (with Everbrite protective coating)
Swarovski Crystal Pearls, 3mm (various colours)
14K Vermeil jump rings
14K Vermeil eye pins
20K Gold filled, 24ga half hard wire
---
---
(Status: hl)
---
---
---