Mosaic Crochet vs Mosaic Knitting:  I have already talked about Mosaic Knitting Basics and then, What is Mosaic Crochet? (or what it isn't).  So before I move on to talk about how to mosaic crochet, let's have a quick look at the differences between Mosaic Knitting and Mosaic Crochet.
This is the Barbara Walker Mosaic Knitting Chart I worked off.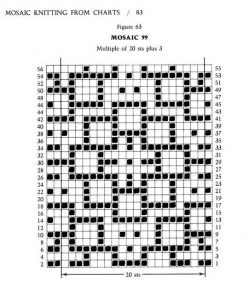 And here are the results, with Mosaic Knitting on the left, and Mosaic Crochet on the right.  The same yarn has been used, with the needle and crochet hook size that was most appropriate for the yarn.