I have been going on about Owl Necklace and Owl Earrings lately.  So it seemed fitting I continued with a beaded owl pendant.
You can find all the how-to steps in both the Karlyn Beaded Owl necklace and also even more detailed steps in beaded owl earrings #1. So here, I will just plop down the finished photos.
status: g005 0LL
Materials:
Swarovski Rivoli Crystal, 12mm, Paradise Shine
.925 Sterling Silver bail
.925 Sterling Silver box chain (18 inches)
Long Drop Beads, 3×5.5mm, Duracoat Galvanised Gold
11/0 Toho seed beads (Impatient Pink Ceylon, Galvanised Aluminum)
11/0 Miyuki seed beads (Galvanised Rose Gold)
15/0 Miyuki seed beads (Duracoat Galvanised Gold)
11/0 Matsumo seed Beads (Opaque Turquoise Green, Silver Lined Blue Zircon)
Just a few little notes.  Here you see the mid stage: body done, eyes about to be done.  I used  6mm round bead here.  The rivoli was only a 12mm, not like the 14mm Swarovski rivolis I used in my previous posts.
---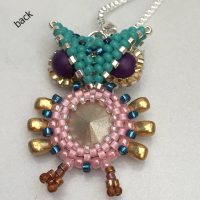 And a photo of the back.
---
Well, that was short and sweet! Keep up the craftiness!