This is beaded owl earrings, Number 2.  The last post showed Beaded Owl Earrings 1, which also had very detailed how-to steps.  So if you want to know how this was made, you are welcome to refer to that post.
As I have already written the how-to in Beaded Owl Earrings #1, I shall merely post detailed photos of the finished jewellery here.
I have included a photo of the back of the earrings as well for completeness. And you will also see this pair with the beaded Karlyn owl necklace.  Both this pair and the previous beaded owl earrings (Number 1), are a matching set for the Karlyn owl necklace.
Note: this pair of owls have smaller eyes that the previous owl earring set.  That is because I have used 6mm round bead (Carnelian Agate) rather than 8mm beads.
Status: g15 0JL SOLD~ (to Christina Gillett, Mar 2017. 20% discount & free SH)
Materials
Swarovski Rivoli Crystal, 14mm, Fuchsia
.925 Bali Sterling Silver Ear Wires
.925 Sterling Silver rings
Long drop beads, 3×5.5mm, Galvanised Gold
Drops, 2.5mm, Crystal AB
Toho 11/0 rocailles (Opaque Turquoise, Galvanised Aluminum)
Miyuki Delicas (Opaque Turquoise AB, Lime Lined AB Hex Cut, Dark Topaz)
Miyuki 15/0, (Sterling plated, Transparent Crystal Ivory Gold Lustre)
---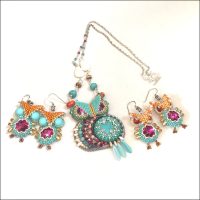 FYI: You can find the related (how-to) posts as follows:
As always, keep crafty!
---