Do you love your bead mat? Oh yes!  Do you hate your bead mat slipping as you work? Oh yes yes yes!
Well, I had enough. I wanted to make a bead mat tray that would be:
be non-slip
capable of holding multiple bead mats
thick enough that when I pin something to it, there is enough depth to hold it
heavy enough that it won't lift up when I move or take pins out
and as a bonus – able to easily change bead mats for different coloured ones.
So here is my functional DIY bead mat tray.  I have tested it daily for a couple of months now and am very happy with its functionality.
How to Make Bead Mat Tray
I am not sure how many photos I took along the path of this experiment.  Hopefully enough to show you how easy it is to make your very own non-slip, changeable-mat bead mat tray.
1) Cut a piece of cardboard to the size of your bead mat. (Here I used the cover of a Swarovski magazine.)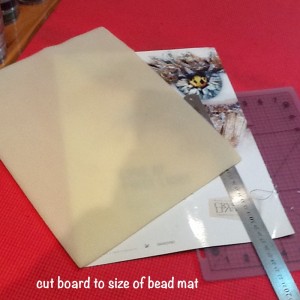 2) It is best to use a plain board. I would use something plainer for the next version. But here, I was still experimenting.  And discovered that it is too colourful as it shows through the bead mat when the mat is placed on top of the board.  So I had to cover the board with a plain fabric.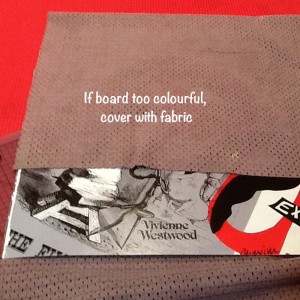 3) Glue the fabric onto the board (both sides).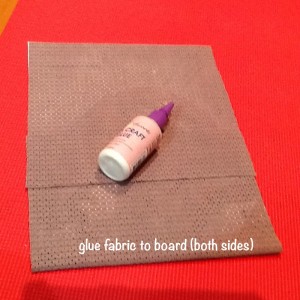 4) Neatly trim edges with tape. I used a blue, sturdy tape. Neatly mitre-fold the corners as well. I chose a sturdy tape as the edges of the board will take a lot of wear. The tape can be glued or sewn down.
5) Position elastic tape to corners. (The ends will be glued down on the back in the next step). The pic below shows 2 corners with elastic, but you really need 4 (as I found out later).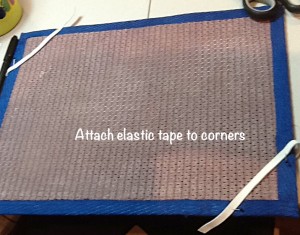 6) Flip over. Cut a piece of non-slip mat to size (just slightly smaller than the bead mat tray).
Glue down the elastic tape ends. Glue non-slip mat on top of this.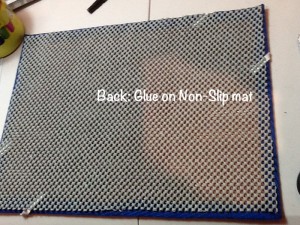 And there you have it!  A beading mat tray that allows you to easily change the colour of your beading mats (note: take your beads off the mat before you do so! LOL!). Will not annoy you by slipping and sliding all over the place.
And because you have multiple mats securely on the tray, you can even pin things to it as it is deep and cushiony.  And the board adds enough weight so that the beating mats will not fly off the table when you pin in and out.
The pic below shows the bead mat tray holding 6 layers of bead mats!
---
Improvements for the next version of my Bead Mat Tray
I don't know when I will be able to tear myself away from creative projects to create more functional tools & gadgets.  But when I do, the next beading mat will:
have ROUNDED CORNERS
be prettified
I forgot how needful the rounded corners feature is when I was quickly putting this experimental bead mat tray together.  But as I have been testing it extensively, I am convinced more than ever how much I need rounded corners.  Otherwise the long threads one tends to use will annoyingly catch on those sharp corners.
As I was most concerned with functional aspects of this experimental bead mat tray, I will have to think about prettifying it the next time round 😉