African Butterfly Magic Hair Clip is alternatively known as double hair comb with elastic, butterfly clip, hairclip, double magic hair comb, double beaded hair comb, magic hair comb. If you have used a Butterfly Magic Hair Clip before you will fully appreciate how much better they are than just about any other hair clip.  Butterfly Magic Hair Clip is very easy to use, very firm, and works whether you have a lot of hair or very little (like me).  (See video at the end of post for how to use a butterfly magic hair clip).
They are super comfortable.  You can even sleep with them and they don't dig into your scalp or cause you to have pulled-scalp pains at the end of a day.  This post is about how to make an African Butterfly Magic Hair Clip.  Once I had tried my first Magic Hair Clip (thanks to Joy Belle, my wonderful mother in law), I was in love.  And next, I had to find out how to make them myself.
---
How to Make Butterfly Magic Hair Clip
It is not obvious how to string the elastic cord, hence this how-to guide.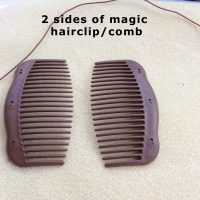 1) There are 2 sides to the hair clip. Place teeth facing each other.
---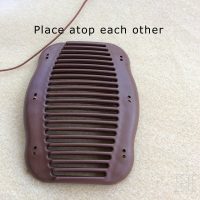 2) Place both sides atop each other.  This is basically how you will be working. This way the length and tension of the elastic cord will be correct.
---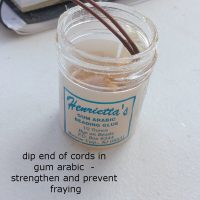 3) The elastic cord is about 63cm to start.
Tip: dip the ends of the cord in glue or Arabic gum.  The ends will be stronger and easier to work with.  And less likely to fray while working with it.
---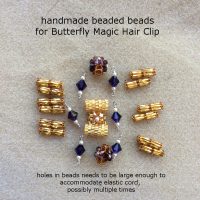 4) I made some beaded beads and connectors for the butterfly magic hair clip.  Keep in mind that the holes have to be large enough for the elastic cord – some with multiple passes.
---
4) Refer to graphed paper for steps in threading the butterfly magic hair clip.
---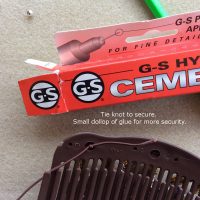 5) Flip comb over.  Adjust elastic cord length and tension. Tie knot and apply small amount of glue for more security.
---
---
FYI: How to Use a Butterfly Magic Hair Clip
Credit: YouTube Video by MonoLeeSwap
---
---
---